February 22, 1992
By Yolanda Reynolds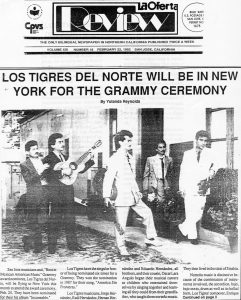 San Jose musicians and, "Best in Mexican American Music" Grammy award nominees, Los Tigres del Norte, will be flying to New York this month to attend the award ceremony, Feb. 25. They have been nominated for their hit album "Incansable."
LosTigres have the singular honor of being nominated six times for a Grammy. They won the nomination in 1987 for their song, "America Sin Fronteras."
Los Tigres musicians, Jorge Hernandez. Raul Hernandez, Hernan Hernandez and Eduardo Hernandez, all brothers. and their cousin, Oscar Lara Angulo began their musical careers as children who entertained themselves by singing together and learning all they could from their grandfather, who taught them norteño music. Then they lived in the state of Sinaloa.
Norteño music is distinctive because of the combination of instruments involved. the accordion, bajo, bajo sexto, drum as well as its ballad form. Los Tigres' composer, Enrique Franco, also a San Josean, says that the inspiration for the balladas and music that he writes are the lives of people in today's world. The group attributes their success as much to the subject of their ballads, as to the style of music they sing.
Some say that their music tells a sad story of struggle and hard work. Others find not only sadness but also inspiration in their songs. Indeed, Los Tigres, who star in many of the movies based on their songs, are also asked often to help in issues of concern to the community. They have been asked to help in turning youth away from drug use. Last October, Los Tigres received an award of appreciation in Monterey, Nuevo Leon, Mexico for their involvement in antidrug education programs.
Los Tigres have been performing together for over twenty years – when they came to the United States. Oscar Angulo says that their success was not achieved overnight, but rather by a steady climb to the top. They work very hard and are gone from San Jose for all but a month in January and two weeks in July. The group performs all over the United States, including such disparate cities as Chicago, Miami, Phoenix and Los Angeles. They frequently perform as well in Mexico and Latin America. This last May, by popular demand. they also performed at eight bases for American troops based in Germany.
Their music unlike "mariachi" music, a music frequently heard in American Mexican restaurants or Mexican restaurants catering to America tourists, is current and features urban/current themes. Mariachi music is generally identified with the Mexican Revolution and topics of that period. In those days (1910), life was very different from today in Mexico and the United States. Then most of the people lived in the country and worked the soil differently, using farm animals rather than tractors – life today both here and there, has changed in many significant ways and the ballads sung by Los Tigres reflect those new realities. They have had over 11 gold records and 9 platinum records.
17 movies have been produced which are based on their songs. Los Tigres have appeared in seven of those movies.
To their fans, Los Tigres remain the same – even tempered, unpretentious, approachable and hard-working musicians. Their careers as musicians began 20 years ago when Jorge the oldest was 12 years old. He is credited with organizing and guiding the group. Their music and the themes of their ballads – dealing with life – undoubtedly will assure that they and their music will continue to grow in popularity.
Enrique Franco, Los Tigres' composer, like the brothers Hernandez and Lara learned music from his family, of whom all were musicians. Franco began to compose music as a youngster in Mexico. Franco was born and raised in the state of Michoacan. Franco now lives in San Jose where he owns and manages two music stores. He has been writing music for Los Tigres for the last 12 years.
The Grammy winner for this award will be announced on Tuesday evening. Following the Grammy celebration, Los Tigres will immediately leave for an engagement in Indio, California. © La Oferta Publication.