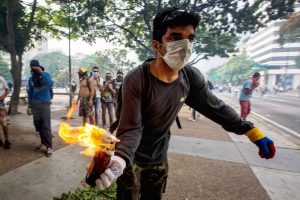 Caracas, Apr 19 (EFE).- The anti-government demonstrations in Venezuela on Wednesday saw more than 400 people arrested, according to the Venezuelan Criminal Forum, and at least 57 people injured, according to the mayor of Caracas' municipality of Chacao, Ramon Muchaco, on social networks.
However, neither source mentions the two people killed from gunshot wounds during Wednesday's protests, a 17-year-old boy in Caracas and a 23-year-old woman in Tachira state, according to local media and the public prosecutor's office.
The director of the Venezuelan Criminal Forum, Alfredo Romero, told EFE that the lawyers who advise the arrested are constantly updating and verifying the figures in the capital as well as in the 23 states of Venezuela, as "too many cases had been registered in only one day."
The lawyer explained that 16 of these arrests took place in Caracas, 69 in Anzoategui state, 57 in Bolivar, 40 in Cojedes, 37 in Falcon, 16 in Barinas, 32 in Tachira, 31 in Carabobo and 24 in Portuguesa, stressing that there are still more cases in other regions of the country.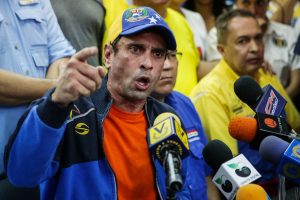 The mayor of the municipality of Chacao, in Caracas, said that the hospitals in his jurisdiction are taking care of 57 people "from the demonstration," who tried unsuccessfully to reach the Ombudsman's Office in the center of the Venezuelan capital.
Of these, 33 people had multiple injuries, 10 with asphyxiation symptoms "as a result of tear gas" used by the police forces to disperse the protest, and 14 with "fainting and stress related problems," according to Muchaco, who belongs to the opposition.
"Everyone is out of danger," Muchaco said on his Twitter account.
The two people killed apparently were not participating in the demonstrations and were shot by unknown perpetrators, according to preliminary information.
Venezuela's executive vice president Tareck el Aissami rejected accusations by opposition groups who blame the government of Nicolas Maduro for the deaths of the two people amid the demonstrations.
After almost three weeks of anti-government protests on the streets of Venezuela and coupled with Wednesday's figure, the current death toll has increased to eight people, including one police officer, and almost one thousand people have been arrested.