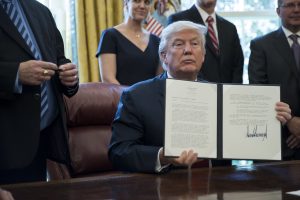 Washington, Apr 20 (EFE).- President Donald Trump on Thursday ordered the Department of Commerce to conduct an investigation to determine if steel imports, particularly those from China, are a threat to national security, a move in keeping with his protectionist campaign promises.

In an Oval Office ceremony, Trump signed a memorandum as per Section 232 of the 1962 Trade Expansion Act, which authorizes the US president to set barriers or tariffs on imports of certain products for reasons of national security.

As set forth in that law, Trump asked the Commerce Department to launch an investigation into whether steel imports have implications for US national security as a first step before deciding what additional measures he might take along those lines.

Flanked by steel industry representatives, Trump remarked to reporters at the event that maintaining US steel production is something extremely important for the country's security and defense industry.
"Steel is critical to both our economy and our military. This is not an area where we can afford to become dependent on foreign countries," said the president.

Trump also said that dumping steel on the market at below market price is a "tremendous problem" that is undermining the US industry.

In a meeting with reporters – at which no cameras were allowed – to provide details about the investigation ordered by Trump, Commerce Secretary Wilbur Ross directly mentioned China and said that steel imports from that country have continued to grow, despite the fact that Beijing promised to reduce its production of the metal.

During the presidency of Barack Obama, the US government presented several formal complaints to the World Trade Organization about the subsidies China accords to certain producers of aluminum and steel, something that – in Washington's judgment – has saturated the markets and reduced the world prices of those metals.

Upon being asked by reporters about the impact the memo he signed Thursday could have on relations with China, in particular in terms of US-Chinese cooperation to keep North Korea's nuclear program in check, Trump said that his measure "has nothing to do" with the Asian giant but rather with the "worldwide problem" posed by dumping.

Steel imports currently comprise 26 percent of US demand for the metal, and with US foundries operating at 71 percent of their capacity there is room for expansion, Ross said.

The commerce secretary said that Washington has imposed more than 150 antidumping orders on steel imports from various countries, but they had had "little meaningful effect."

During his election campaign, Trump promised to revitalize the steel industry and, as president, in January he resumed construction of two controversial oil pipelines that, he ordered, will have to be made with US-made steel.

The Commerce Department will have 270 days to complete the investigation into the matter, but Ross, a former steel executive, said he expected it to be finished a good bit sooner than that.