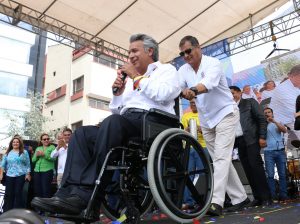 Quito, April 22 (EFE).- The Ecuadorian government, which won the April 2 presidential elections, celebrated its victory at a rally on Saturday and reiterated its commitment to work for the poorest people in the nation, ruled by the Alianza Pais party for the last decade.
President-elect Lenin Moreno, who will be sworn in on May 24, thanked his supporters and vowed to fulfill his election campaign promises, which include support for the agricultural sector, and the construction of 325,000 houses, among others.
He also thanked President Rafael Correa for his work over the last decade, and said Correa was leaving tough challenges for him.
Moreno said he had a great responsibility to carry out that work, which he would do with current Vice President Jorge Glas, who was re-elected for another term.
After a recount of more than 1.2 million votes, cast in the presidential elections, Ecuador's National Electoral Council confirmed that leftist candidate Moreno was the winner with 5,062,018 votes.
His opponent Guillermo Lasso of center-right CREO movement, allied with SUMA, received 4,833,389 votes.
In the recount, Moreno obtained 51.16 percent of valid votes with Lasso at 48.84 percent – an increase of 1,594 votes for Moreno from the original April 2 vote count.
During the AP rally, Correa criticized the opposition's actions during the electoral process and urged that they "learn to lose", adding that he would not allow "bad losers" to undermine Moreno's victory.
Correa noted that the country had gone through difficult economic times during the last two years, recalling the April 2016 earthquake which left 670 dead and millions missing, and said May 24 would deliver a growing and stabilized economy.
Glas stressed the progress that has been made in infrastructure but said much more needed to be done, and that the new administration would work to achieve this and aim to wipe out poverty.
Moreno added that the poorest members of society knew that the AP's political and socioeconomic project, the Citizen Revolution, had helped them.