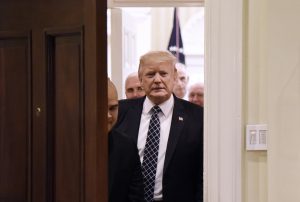 Washington, Apr 25 (EFE).- A US federal judge in California on Tuesday blocked President Donald Trump's executive order denying federal funds to municipalities that refuse to cooperate with immigration authorities to deport undocumented immigrants.
The temporary ruling by Judge William Orrick, of the Northern California District, based in San Francisco, is a new setback for the Trump administration, although it is not a definitive ruling and the Department of Justice could resort to the 9th District Appeals Court to try and get it overturned.
In his written ruling, to which EFE received access, the judge said that the executive order signed by Trump on Jan. 25 cannot be implemented because doing so would violate the Constitution.
San Francisco and neighboring Santa Clara County – where Silicon Valley is located – had won preliminary injunctions blocking the president's order to withhold federal funds from cities refusing to comply with federal authorities in enforcing immigration laws.
Judge Orrick found that the plaintiffs had proved that they would suffer irreparable harm as a result of Trump's order and, thus, he blocked the measure temporarily while he studies it more closely.
The injunction is effective on the national level and affects all sanctuary cities, comprising about 200 local entities, including Los Angeles, Chicago and New York, that protect undocumented migrants from deportation.
However, the injunction says it "does nothing more than implement the effect of the Government's flawed interpretation of the Order. It does not affect the ability of the Attorney General or the Secretary to enforce existing conditions of federal grants … nor does it impact the Secretary's ability to develop regulations or other guidance defining what a sanctuary jurisdiction is or designating a jurisdiction as such."
Orrick, who was appointed by former President Barack Obama, ruled that Trump's order violated the Constitution by trying to punish local governments by seeking to "deprive local jurisdictions of congressional allocated funds without any notice or opportunity to be heard."
"The Constitution vests the spending powers in Congress, not the President, so the Order cannot constitutionally place new conditions on federal funds," Orrick stated in his ruling.
Trump had threatened to cut off federal funds from sanctuary cities but had not followed through on that yet.
Nevertheless, the administration had given several ultimatums to sanctuary cities to try and force them to inform immigration agents about the immigration status of people arrested there with an eye toward facilitating the deportation of those migrants who are living in the US illegally or who have committed a crime.
The latest such ultimatum was delivered last Friday, when the Justice Department threatened to cut funding for nine jurisdictions if, by June 30, they did not provide documentation showing that they were cooperating with federal authorities to facilitate deportations.