March 14, 1992
By Yolanda Reynolds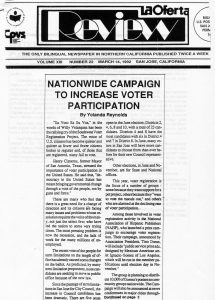 "Su Voto Es Su Voz," in the words of Willy Velasquez has been the rallying cry of the Southwest Voter Registration Project. The voice of U.S. citizens has become quieter and quieter as fewer and fewer citizens bother to register and, of those that are registered, many fail to vote.
Henry Cisneros, former Mayor of San Antonio, Texas, stressed theimportance of voter participation in the United States. He said that. "democracy in the United States has meant bringing governmental change through a vote of the people, not by guns and force."
There are many who feel that there is a great need for a change of direction and its citizens are facing many issues and problems whose resolution requires the voice of the many, not just the select few; who have led the nation to some very trying times. The most pressing problem is now the recession, and the lack of work for the many millions of unemployed.
The recent vote of the people for term limitations on the length of office has already caused some changes on the ballot. As predicted, by many term limitation proponents, more candidates are seeking to serve in public office because of the new law.
Since the passage of term limitations in San Jose for City Council, the increase in Council candidates has been dramatic. There are five seats open in the June election; Districts 2, 4, 6, 8 and 10, with a total of 23 candidates. Districts 4 and 8 have the most candidates with six in District 4 and 7 in District 8. In June, many voters in San Jose will have more candidates to choose from than ever before for their new Council representative.
Other elections, in June and November, are for State and National offices.
This year, voter registration is the focus of a number of groups some because they want support for a pet project, others because they "want to vote the rascals out," and others who are alarmed at the declining of voter participation.
Among those involved in voter registration activity is the National Association of Hispanic Publishers (NAHP), who launched a print campaign to encourage voter registration. Their campaign, announced by Association President, Tino Duran, will include "public service print ads, designed by Mexican American artist Ignacio Gomez of Los Angeles, which will be run in the member publications until election day in November."
The group is planning to distribute 10,000 of Gomez's posters to community groups nationwide. The Campaign will also be announced at news conferences in major cities throughout the Nation.
According to the publisher of El Diario-La Prensa, the largest Spanish language daily newspaper in the United States, there are over 350 Hispanic publications with a readership of 7 million. That number of readers is expected to grow rapidly as the Hispanic population grows to 30 million by the turn of the century.
Duran says that, "if Hispanics don't register and vote, they will remain a silent minority."
The Phillip Morris Company is a sponsor of this voter registration project. Besides Phillip Morris, Kraft General Foods is involved in the print media campaigning with NAHP.
La Oferta Review is a member of the NAHP.
In San Jose, a number of voter registration drives are under way. One drive was kicked Wednesday noon by the "Students United for Accessible Education" (SUAE). They are determined to follow through with their threat to "recycle" politicians who support increasing tuition fees by 40% at California University campuses.
SUAE President, Juan Haro, says, "this campaign will initiate steps in strengthening student's political power. Students traditionally have had weak political clout and, as a consequence, higher education has suffered decreasing priority in state budgeting."
At the kick-off, students who registered to vote won the privilege to take a whack at a Pete Wilson piñata and to express their displeasure at the proposed tuition hike and budget cuts.
Another voter registration campaign targeting the Latino community was launched by the Latino Issues Forum of Santa Clara County (LIF) last Friday. LIF President, Pete Carrillo, said that their project expects to register 6 thousand new Latino voters. Their campaign will also include getting those already registered – to vote.
Unfortunately, many registered voters do not vote. The reasons for this are varied and are reflected in the campaign issues raised by some of the Presidential candidates. Particularly former California Governor Jerry Brown who is running a "grass roots" campaign, to draw the disaffected voters to the ballot box and to vote for him, hopefully to produce a win.
There are others who are also out registering voters; such as the various political parties, and even some Giants fans who hope that the voters will tax themselves to pay for the $400+ million stadium.
For more information on:
The National Association of Hispanic Publisher's voter registration print campaign contact Tino Duran (512) 270-4590.
The Latino Issues Campaign, contact Bea Robinson at 2886-7239.
The Students United for Accessible Education, contact James Aldana at 298-0652. © La Oferta Newspaper.