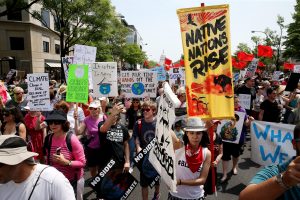 Washington, Apr 29 (EFE).- Thousands of people from all over the US marched Saturday in favor of protecting the environment while slamming the effects that President Donald Trump's policies will have on the climate and on the health of Americans.
From the early hours Saturday, protesters gathered near the US Congress, then set out on a march down the streets of the US capital in a protest that was to surround the White House.
"The Trump administration's policies are a catastrophe for our climate and communities, especially low-income and communities of color, who are on the front lines of this crisis," the People's Climate Movement, a coalition of environmentalist groups, said in a statement.
With many slogans in favor of the environment and against Trump, the thousands of demonstrators packed the main thoroughfares of the city under a blazing sun, a week after another demonstration was held by the scientific community, which denounced government cuts to research budgets.
Among the participants Saturday were public figures like actor Leonardo DiCaprio and former Vice President Al Gore, who were expected to speak after the demonstration this afternoon in front of the Washington Monument.
The march coincided with the 100th day in power of President Trump, who does not hide his skepticism about climate change and has repealed a number environmental protection regulations enacted by his predecessor in the White House, Barack Obama.
Trump has said he will give priority to economic growth over the concerns of environmentalists.