March 26, 1992
By Yolanda Reynolds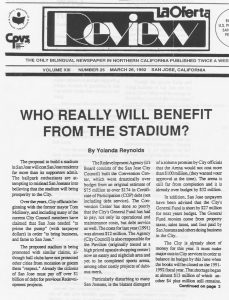 The proposed to build: stadium in San Jose will cost San Jose residents far more than its supporters admit. The ballpark enthusiasts are attempting to mislead San Jose into believing that the stadium will bring prosperity to the City.
Over the years, City officials beginning with the former Tom McEnnery and including many of the current City Council members have claimed that San Jose needed "to prime the pump" (with taxpayer dollars) in order "to bring business, and fame to San Jose."
The proposed stadium is being promoted with similar claims, although ball clubs have not protected other cities from recession or gotten them "respect." Already the citizens of San Jose must pay off over $1 billion of debt for previous Redevelopment projects.
The Redevelopment Agency (it's Board consists of the San Jose City Council) built the Convention Center, which went drastically over budget from an original estimate of $75 million to over $174 in Certificate of Participation (COP) debt (not including debt service). The Convention Center has done so poorly that the City's General Fund has had to pay, not only its operational and maintenance costs. but debt service as well. The costs for last year (1991) was almost $12 million. The Agency (City Council) is also responsible for the Pavilion (originally touted as a high priced upscale shopping center) now an eatery and night club area and yet to be completed sports arena, among other costly projects of dubious merit.
Particularly disturbing to many San Joseans, is the blatant disregard of a solemn promise by City officials that the Arena would not cost more than S100 million, (they wanted voter approval at the time). The arena and it is already over budget by $32 million.
In addition, San Jose taxpayers have been advised that the City's General Fund is short by $27 million for next years-budget. The General Fund monies come from property taxes, sales taxes, and fees paid by San Joseans and others doing business in the City.
The City is already short of money for this year. It must make major cuts in city services in order to balance its budget by this June when the books will be closed on the 1991-1992 fiscal year. That shortage began at almost $13 million, of which another $4 plus million still remains.
Already City fees are intolerably high, staff and consequently services have been drastically cut and most recently, city staff have been asked to take leave without pay. In her desperation to reduce the General Fund short fall Mayor Hammer and some Council supporters have overridden years of police opposition and are supporting a huge increase in gambling in San Jose solely for the new revenue it will bring.
Now some City leaders, led by Mayor Susan Hammer, have chosen to disregard the plight of the average San Josean and are asking the citizens to pay for the construction of a Stadium for millionaire ball players and the multi-millionaire ball club owner, Bob Lurie.
Since the stadium is very costly (total cost estimates run from $400 million to over $500 million), the City is planning to pass a utility tax which will affect water, gas, garbage, and telephone bills for San Joseans. This fee increase is so onerous that business giants such as IBM and other companies have publicly announced their opposition to the proposed increased in utility fees. They say that such a fee increase will greatly decrease their ability to conduct business in San Jose.
Even though the 40 percent utility tax increase is expected to raise $16 million per year that sum will not be enough to pay for the stadium. (An increase of two percent over five percent represents a total of an increase of a 40 percent in the total of the utility bills). Besides needing more revenue, there has been opposition to the utility tax, so much so that the stadium boosters have proposed another fee (tax), a $10 per ton fee for use of San Jose landfills (garbage dumps), in order to reduce dependence on the 40 percent utility tax. This fee is expected to raise another $12 million per year. This additional fee will not directly cost San Joseans more except that most San Joseans work outside of the city limits. It has, however soured relations with the surrounding cities which are looking for ways to retaliate.
The long-range outcome of fee and tax increases is the likelihood that many San Joseans will eventually lose their high salaried jobs as more companies find it too costly to do business in Santa Clara Valley and decide to leave the area.
Already unemployment is high in San Jose (6.5 Jan., up from 5.2 in Dec.) with certain segments of the community experiencing even higher rates of unemployment.
Though the people living and doing business in San Jose and the Santa Clara Valley will be paying for the stadium, Lurie (A San Franciscan) and his ballclub will have sole use of the stadium for 365 days out of the year.
Measure "G" which will appear on the June ballot asks San Jose voters to approve the City's stadium, as well as educational scholarships and for increased crime prevention. This is a cynical bid to get support for the stadium from groups that would not vote for a stadium alone.
The measure is reminiscent of the promises made by the promoters of the California lottery, which was supposed to be a boom to education. Most informed Californians know the results – another false promise.
What is needed for the education of our youth and gang prevention is a real commitment to education – not leftover, if indeed there is any money left over, from another deal, in this case a stadium built for rich ballplayers and its multi-millionaire club owner.
Measure "G," if approved by the voters, would allow the construction of a costly ballpark and will add an enormous tax burden (S 1/2 billion) to businesses and people living and doing business in San Jose and the County.
Some elected officials and "community leaders" have forgotten their elected duties and are completely out of touch with the realities of life of the average household in San Jose and Santa Clara County during this, the worst recession in California since the 1930's. It is time for the voters to jolt those dreamers back to reality by rejecting Measure "G."