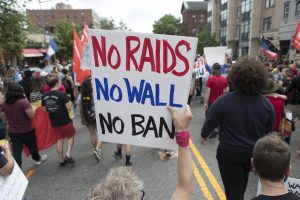 Washington, May 1 (EFE).- Thousands of people turned out in some 200 US cities on Monday to reject the immigration policies of President Donald Trump in huge demonstrations.
On International Workers Day, protests were staged in Washington, New York, Chicago, Seattle, Boston, Philadelphia, Los Angeles and dozens of other cities.
One of the largest demonstrations took place in Washington, where activists, immigrants and even lawmakers filled the streets, including Illinois Congressman Luis Gutierrez, one of the most prominent faces in the fight for immigration reform.
"The more Trump attacks immigrants and dehumanizes them, the more the American people see the humanity of our immigrant brothers, their vulnerability and their contributions," Gutierrez said.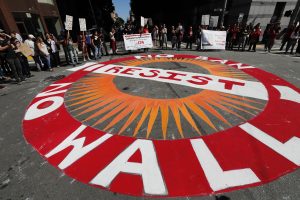 The lawmaker expressed his rejection of Trump's initiative to build a wall along the border with Mexico and his promise to hire 15,000 new immigration agents to increase deportations of undocumented migrants and those immigrants who have committed crimes.
Joining Gutierrez were other important political figures including Senate Minority Leader Chuck Schumer and the new head of the Democratic National Committee, Tom Perez, who served as labor secretary from 2013-2017 under former President Barack Obama.
The Washington marchers began their trek through the city at Dupont Circle and ended up at the White House.
With the flags of many Latin American countries in evidence, immigrants from all over took to the streets to challenge Trump's policies against immigrants and his political moves against women and workers.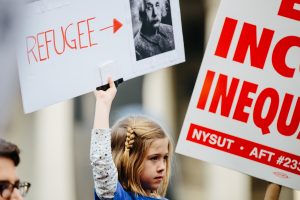 The protest also sought to unite all those people angry with the president and the policies he has implemented during his first 100 days in office, a milestone he marked on the weekend.
Among the demonstrators was Kathy Stein, a retiree who has become a regular figure at such protests and who on Monday was attending her sixth march so far this year proudly wearing a protest pin saying "Not my president," alluding to Trump.
"Immigrants have become a scapegoat, especially Muslims and Mexicans, and we've come to show that the people are opposed to this," Stein told EFE.
During the march, the demonstrators displayed signs with messages such as "We don't lead the US but we make the US work," while others shouted slogans such as "Trump says go back and we counterattack."
This year, the May Day marches were infused with a feeling of defending immigrants and lambasting Trump's initiatives such as his plan to eliminate sanctuary cities, which are municipalities that refuse to cooperate with the government to deport undocumented migrants.