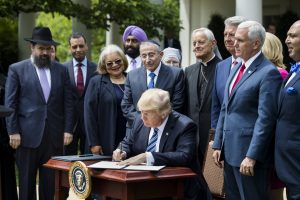 Washington, May 4 (EFE).- President Donald Trump on Thursday signed an executive order relaxing the rules on political activity by churches and other religious organizations, as well as giving "regulatory relief" to companies who had been required under ObamaCare to offer contraception services as part of the companies' health care plans.
Surrounded by priests, monks and representatives of religious groups at a White House ceremony, Trump took the first step to ensuring that tax-exempt religious organizations will be able to express their support for political candidates or to participate in partisan activities without losing their tax-exempt status.
"No one should be censoring sermons or targeting pastors," said Trump at the ceremony.
The order stems from a promise Trump made as a presidential candidate and which he reiterated in February, when he said that he would "totally destroy" the 1954 Johnson Amendment banning churches and other tax-exempt organizations from supporting political candidates.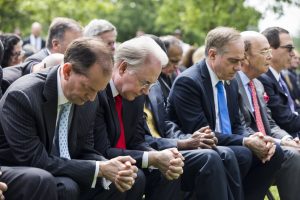 That measure says that religious and other tax-exempt organizations that campaign for or against candidates for political office run the risk of losing their tax benefit.
Trump cannot unilaterally overturn that measure, given that it can only be fully revoked by Congress.
What the executive order the president signed on Thursday does is instruct the US Treasury, which oversees the Internal Revenue Service, not to take any measures against individuals, churches or other religious organizations who speak about moral or political issues from a religious perspective.
"For too long the federal government has used the state as a weapon against people of faith," said Trump at the signing ceremony.
The measure is less stringent that the draft initially considered by the White House, which according to press reports included a clause that would have permitted federal government contractors to discriminate against gay employees or single mothers, claiming to be acting on the basis of faith.
But that did not prevent certain groups from lambasting Trump's order, and the American Civil Liberties Union announced in a statement that it will fight the measure in the courts, as is did with the president's order on immigrants and refugees, which has now been suspended.
"The actions taken today are a broadside to our country's long-standing commitment to the separation of church and state," said ACLU chief Anthony Romero in a statement.
"Whether by executive order or through backroom deals, it's clear that the Trump administration and congressional leadership are using religion as a wedge to further divide the country and permit discrimination," Romero added.
The order also includes unspecified "regulatory relief" for employers and insurance companies who must comply with ObamaCare's requirement that insurance cover contraception for women.