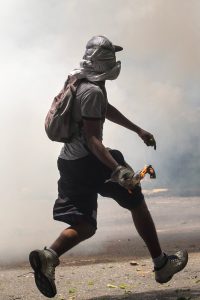 Caracas, May 4 (EFE).- University students in Venezuela were the main protagonists of new protests against the Venezuelan security forces on Thursday, while the government of President Nicolas Maduro continued with his plan to rewrite the nation's constitution.
Student leaders from numerous universities summoned several demonstrations on Thursday to support the opposition and to show their solidarity to the relatives of the 35 people who have died in anti government protests so far, as well as hundreds of others who were injured or arrested.
The students of the Central University of Venezuela (UCV), the most important university in the country, were stopped at the gates of their institution when they tried to march to the Ministry of Interior and Justice in the center of Caracas.
Rafaela Requesens, student leader of the Federation of University Centers of the UCV (FCU-UCV), said that the President's proposal to amend the Constitution by convening the National Constituent Assembly "does not make sense" because "what has to change" is the Government of Maduro.
"The terrorists today are in government, today we are the ones who are fighting for Venezuela, today they are stopping us, today they are killing us, today we are victims of repression, hunger, lack of drugs and here we are," Requesens said before leaving for the marches.
The deputy president of the FCU-UCV, Alfredo Garcia, said at that meeting that "students have already been on the streets for more than 35 days", assuring "we will not abandon them."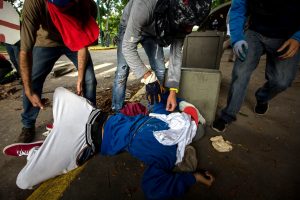 The demonstration convened by the UCV was dispersed by the National Guard (GNB) with tear gas and, according to Requesens, also with rubber bullets and marbles.
The students of the private Catholic university Andres Bello (UCAB), located in the west of Caracas, were more fortunate as they were able to reach the headquarters of the Episcopal Conference of Venezuela (CEV), located a few kilometers from their university.
There, the UCAB submitted a letter, asking the Venezuelan society to remain united and also asked for the support of Pope Francis.
"Pope Francis, please listen to the students. We have no fear, we need peace, democracy, justice and freedom," said UCAB student councilor Santiago Acosta as he read the letter in front of the CEV.
The renowned Venezuelan conductor Gustavo Dudamel also asked Nicolas Maduro on Thursday, in a public letter, to "listen to the voice of the people" and said that his call is "against violence and repression."
Meanwhile, Maduro said that four alleged protest leaders from Caracas were arrested and that they were conducting an "armed insurgency" against the state.
It was later revealed that Maduro's government has invited The opposition alliance, Democratic Unity Roundtable (MUD) to a meeting on May 8, in which "the motivation of the presidential initiative" will be official presented to the National Constituent Assembly.