Montevideo, May 9 (EFE).- The World Organization for Early Childhood Education (OMEP) on Tuesday in Montevideo inaugurated the 7th Latin American Assembly for Early Childhood, at which participants will discuss the problem of educational access and quality for young children in the region.
"We understand that … all boys and girls in early childhood have the right to be able to access (quality) education," OMEP's regional vice president for Latin America, Mercedes Mayol Lassalle, told reporters.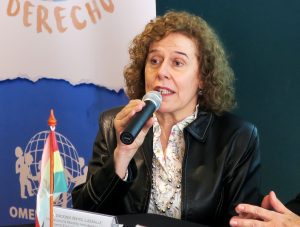 Mayol Lassalle said that this work is being carried out "under the big umbrella of human rights."
The assembly, with the slogan "Quality of attention and education in early childhood," will run through May 13 and is being attended by delegations and observers from Argentina, Brazil, Bolivia, Chile, Colombia, Ecuador, El Salvador, Mexico, Panama, Peru, Uruguay and Venezuela.
These countries, as well as Cuba, are the current members of the organization in Latin America.
Mayol Lasalle said that, although "it's been several years since (childhood education) began to be seen as a 4- to 5-year-old child's right, childhood is still, in some way, privatized within the family and the states have obligations."
"And we're not saying that childhood education has to have the format of a specific scholastic institution, but rather than the state must also look out for sustaining families by guaranteeing all the rights of the child," she said.
In addition, she said that OMEP "accents" education because it feels that it is "a right and a tool" to be able to ensure other rights such as healthcare, identity and general protection.
She said that authorities must "make great efforts" to ensure the professional qualifications of those who take care of small children and guide their education.
In addition, she said that another key task is to "prioritize investment" by governments in education, and she warned that OMEP "is firmly determined to exert political influence and obligate states to fulfill their commitments."
"Although (they are) in crisis, and making budgetary adjustments given the realities our countries are facing, the priority is to invest in early childhood," she said.