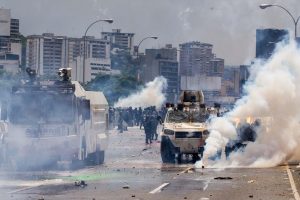 Caracas, May 10 (EFE).- The Venezuelan Public Ministry announced Wednesday that another person had been killed in the wave of anti-government protests that have wracked the oil-producing nation over the past 40 days.
"#AHORA Miguel Castillo (age 27) died during demonstration in Las Mercedes," said the ministry on Twitter, adding that an investigation into his death is under way.
Security forces used tear gas on Wednesday to disperse thousands of government opponents who were marching along the capital's main highway en route to the Supreme Court downtown.
EFE verified that even as the Bolivarian National Guard was firing tear gas and using water cannon to break up the protest, one group of demonstrators responded by hurling stones, containers of paint and jars of excrement at the troops.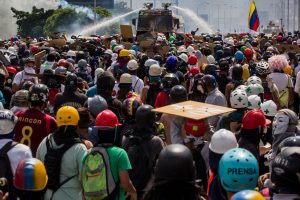 At least 177 people were injured during the demonstration that developed in eastern Caracas, certain officials said.
The mayor of the capital municipality of Chacao, opposition figure Ramon Muchacho, said on Twitter that 93 people had received medical attention in his jurisdiction, two for non-fatal gunshot wounds, six from buckshot, 13 for respiratory problems presumably caused by tear gas and 72 for various other injuries.
Meanwhile, fellow opposition Mayor Gerardo Blyde of the capital municipality of Baruta, told reporters that 84 people were given medical treatment there, "the majority of them for injuries with blunt objects and … a third of them for asphyxia and one death," referring to Castillo
At the demonstration, several lawmakers including Juan Requesens, Juan Andres Mejia and two-time presidential candidate Henrique Capriles, posted videos on the social networks showing what they called "savage repression" by law enforcement.
On Wednesday, the Venezuelan Attorney General's Office reported in a statement the death of Anderson Dugarte, a 32-year-old mototaxi driver who was shot in the head on Monday at a demonstration in western Merida state.
Dugarte died Wednesday in a hospital in Merida.
The demonstrations besetting Venezuela, both for and against the government of President Nicolas Maduro, have also left almost 2,000 under arrest.