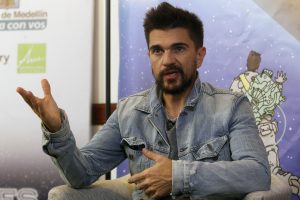 Medellin, Colombia, May 10 (EFE).- With his seventh studio album – "Mis planes son amarte" (My plans are to love you) – which goes on sale Friday, Juanes is seeking to convert his fans from the idea of just listening to hit singles and sit down to experience an album from beginning to end.
"The way of consuming music has changed rather quickly. Every day I release a song, it moves very quickly and it's like 'where did the album go, the whole work?' I wanted somehow with this new (album) to give importance and dignity to the project," said Juanes on Wednesday in an interview with EFE.
Given music's current format, in which little attention is paid to complete albums, the Colombian singer said that "it's like you went to read a book and you're just reading one chapter."
So, on this album, he said he's seeking to captivate the listener with an audiovisual project that transforms the album into a roughly 90-minute film into which the songs are inserted as integral parts of a story.
The songs in the "visual album" are midway between a movie and conventional videoclips and assembled into a tale – or narrative – of love, time, space and magic.
It is within this creative universe that Juanes moves this time around, attempting to entice his fans to sit down and listen to all the numbers – and thus experience the tale – from start to finish.
"This isn't about a song that might be a hit on the radio, but rather a complete story and everything that's behind it, there are several layers, the story of the character, a Colombian astronaut, who is on a search," the songwriter said.
To prepare the work, Juanes opted to return to his hometown of Medellin, saying that after traveling all around the world many times he wanted to end up in his own city working "with talented producers."
"That enchanted me, it was a way to reconnect with myself, to produce my own music … It's a way of gathering strength for the next leap forward … it's a return to the beginning and I feel full of positive energy to continue," he said.
Juanes went on to say that on this latest work the music of Latin America and the continent itself have a fundamental role.
"I feel like an artist from Medellin for the world," he said, adding that "everything that happens (in Latin America) affects us and is super-important. I grew up listening to Argentine popular music … we've grown up with that, there's a big connection with Latin America."
That concept is also very evident in the film, which begins in Mexico and in which the pre-Hispanic world is omnipresent.
Juanes plays the roles of an astronaut who lands in Colombia and gets to know an indigenous woman, who becomes his soul mate, and an archaeologist who seeks her, engaging in a shamanistic ritual trying to find the love he knew with her even as she continues to inhabit his dreams.
The album also contains the first song Juanes – who speaks English perfectly, having lived in the US for many years – has recorded in English: "Goodbye for now."