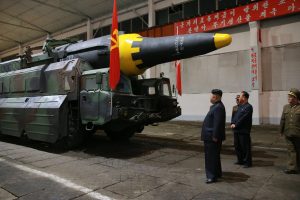 United Nations, May 15 (EFE).- The United Nations Security Council on Monday unanimously condemned the latest ballistic missile test by North Korea and reiterated its intentions to impose new sanctions on Pyongyang.
In a statement, the fifteen member states of the Council denounced North Korea's "highly destabilizing behavior" and the threats these military tests posed to the United Nations.
The hermit country is banned by the Security Council from carrying out such military trials and therefore, is subjected to harsh international sanctions for its nuclear weapons and missiles program.
The UN Security Council addressed on Monday its commitment to fully implement these punitive measures and to encourage all other member states to do the same.
Like on previous occasions, the council also warned that they are prepared to tighten sanctions on Pyongyang.
Currently, the United States and China are negotiating a possible widening of sanctions in response to previous provocations by the North Korean regime.
The Security Council also noted in the statement that the "illegal missile activities" contribute to the development of systems capable of carrying nuclear weapons and are increasing tension in the region and beyond and demanded from North Korea to "immediately showing sincere commitment to denuclearization through concrete action".
North Korea said on Monday that its latest ballistic missile test was a new medium-range improved rocket, placing Pyongyang even closer to achieving an intercontinental weapon capable of reaching the United States.
The Kim Jong-un regime stated through the state news agency KCNA that the missile test on May 14 featured a new "medium-range" projectile named Hwasong 12 which is capable of carrying a "large-size nuclear warhead."
Launched from the center of the country at 5.27 am local time on Sunday (20.27 GMT on Saturday), the projectile flew for about 787 kilometers "to a maximum altitude of 2,111.5 km" before falling into the Sea of Japan, about 500 km from Russian territory, according to KCNA.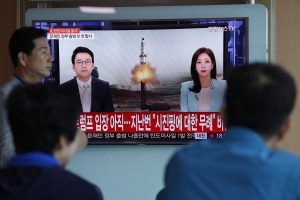 El Consejo de Seguridad de la ONU condena el último misil de Corea del Norte
Naciones Unidas, 15 may (EFEUSA).- El Consejo de Seguridad de la ONU condenó hoy el último lanzamiento de un misil balístico por parte de Corea del Norte y reiteró su disposición a imponer nuevas sanciones contra Pyongyang.
En un comunicado, los quince miembros del Consejo denunciaron el comportamiento "altamente desestabilizador" de Corea del Norte y el "desafío" a Naciones Unidas que suponen estos ensayos militares.
El país asiático tiene prohibido por el Consejo de Seguridad realizar este tipo de actividades y es objeto de duras sanciones internacionales por su programa nuclear y de misiles.
En este sentido, los países del Consejo se comprometieron hoy a implementar en su totalidad esos castigos y a animar al resto de Estados a hacer lo mismo.
Además, como en otras ocasiones, dejaron claro que están dispuestos a endurecer las sanciones contra Pyongyang.
Actualmente, Estados Unidos y China están negociando una posible ampliación de esas medidas, en respuesta a anteriores movimientos por parte del régimen norcoreano.
En el comunicado, el Consejo de Seguridad recordó que las "actividades ilegales con misiles balísticos" contribuyen al desarrollo de sistemas capaces de transportar armas nucleares y están incrementando la tensión en la región y más allá.
El Consejo de Seguridad tiene previsto reunirse de urgencia este martes para analizar a puerta cerrada el último ensayo militar norcoreano.
Corea del Norte dijo hoy que su último misil lanzado es un nuevo proyectil perfeccionado de rango medio, algo que certifican expertos y que sitúa a Pyongyang más cerca de conseguir un arma intercontinental capaz de alcanzar EE.UU.
El régimen de Kim Jong-un informó a través de su agencia de noticias KCNA que el misil lanzado en la víspera es un nuevo proyectil de "medio largo alcance" bautizado Hwasong 12 que es capaz de llevar una ojiva nuclear "de gran tamaño".
Lanzado desde el centro del país a las 05.27 hora local del domingo (20.27 GMT del sábado), el proyectil recorrió 787 kilómetros antes de caer en el Mar de Japón, a unos 500 kilómetros de territorio ruso, y tras "volar a una altura máxima de 2.111,5 kilómetros", según KCNA.