June 6, 1992
By Yolanda Reynolds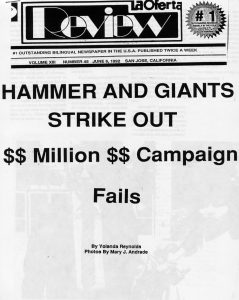 CAST, Citizens Against Stadium Taxes, opponents of a ballot measure to publicly finance a ballpark in San Jose for the San Francisco Giants, declared a victory for the people late Tuesday. Measure "G," the ballpark measure which would have authorized the City to build the stadium was rejected by 55% of the voters.
Their campaign was clearly a grass roots operation and altogether collected less than $20,000 for their Campaign. They did however enjoy the support of an army of volunteers, many of whom were unknown to each other but all working for the same objective – the defeat of a proposal to spend taxpayer money on a large ticket luxury item, when  the city is unable to provide such essentials as safe streets, housing, and park services and when many of its students cannot afford even modest shelter or health care.
The Pro-stadium forces included some prominent elected officials, the very wealthy ball team owner, Bob Lurie. various developers and some business people – many of whom were not San Jose residents. The Yes on Measure "G' Campaign collected over $1 million dollars and with the City's expenditure of over $1 million for consultants, studies and ballpark design, their combined cost was in excess oo $2million.This became the most expensive campaign in San Jose's history.
The Campaign may also become a watershed in San Jose politics, as people, not only in San Jose but elsewhere witnessed what can be accomplished by a group of people dedicated to a cause – particularly if the cause can be clearly articulated and related to the best interests of the larger community.
On the Wednesday morning following the ballot election, CAST spoke persons held a press conference to "clarify" what their successful campaign was all about. They said, "San Jose voters have not rejected the Giants. They rejected the deceptive politics of Measure "G."
CAST added that, "Measure G was misleading, contrived and downright deceptive." That perception was held by many in the City. At a recent meeting held by PACT (People Acting in Community Together), a powerful church/community based organization, spokesperson Father Moran, a Catholic priest at Most Holy Trinity, said that they (the community) were there to "cry, foul ball," over the stadium funding plan.
Measure "G" contained a vaguely stated funding proposal – requesting approval of the use of general funds – to build a baseball stadium, a program to "fund improvements in public schools, colleges scholarships and city-wide and anti-drug, anti-gang problems."
Newspaper account reported and the Major proposed that the 48,000-seat stadium was to be paid for through a 2% percentage increase in taxes on gas, water and intrastate phone calls –at an estimated initial cost of $35 per household per year. A proposal that many voters saw as a way to circumvent Proposition, 13, a popular voter approved tax measure. CAST predicted that in time that cost would become at least $1,000 her household per year.
Also, many voters felt that a reference to school, drug and gang programs in Measure G was simply to gain vote approval. Credible analysts doubted that the proposed utility tax was sufficient to build the stadium and support the many programs promised.
In response to the CAST press conference, Mayor Hammer held her own conference in the afternoon. Hammer defended the stadium campaign, stating that "we ran a first rate, honest campaign." She added, "Measure G… was primarily an economic development proposal."
The claim that ballparks bring economic benefits  was not accepted by many San Jose voters – an assessment shared by many economists. James Quirk, a California Institute of Technology Economist emeritus, says that "no studies have ever demonstrated that a City actually reaps increases in local business income growth as a result of a league franchise." Another economist, Rodney D. Fort of Washington State, is reported to "have begun investigating why cities continue to build stadiums, but has found no convincing answers yet.
Quirk and Fort's findings regarding the economic vagaries of baseball are discussed in a column titled "The Analytical Economist" in the April issue of the Scientific American Magazine.
To many people, this election is proof that a properly informed and thoughtful electorate is the key of self-governance. A newly formed group, Project Vote Smart, says that "democracy is threatened." They say that "the high-tech modern political campaign has succeeded in camouflaging the candidate, manipulating us emotionally instead of informing us intellectually."
Vote Smart leaders say that they came together to fight a battle for your right to know… they add that it is a "battle for that most essential and precious part of our struggle to self-govern: information.
Vote Smart questions, "how we can govern ourselves successfully if we strip our people of the information essential to the making of wise and prudent decisions in the voting booth?
The CAST campaign struck a chord of empowerment of the people. Sheila Torres, a San Josean, said that for this election, she made sure that every one on her block, her family and her work companions were registered to vote and that they followed through by voting.
Democracy is a treasure and must be engaged in by everyone. Vote Smart says that it is not only important to vote but, as important, that the citizenry defend itself from abusive campaign tactics. According to an exit poll conducted by a San Jose State University Professor, Larry Gesten, the Hispanic community had the highest percentage (53) of no votes for the stadium.
Vote Smart is a bipartisan organization. The honorary co-founders are former U.S. Presidents Jimmy Carter a Democrat, and Gerald Ford a Republican. There are 37 founders, too many to listen here. The following list includes such disparate allies of this cause as Barry Goldwater, George McGovern, Esteban Torres, Ron Dellums, David Boren and Newt Gingrich, among others.
San Joseans demonstrated that members of this highly diverse community, can come together to defeat a lengthy campaign that the Mayor of San Jose has characterized as one of the "best run Campaigns in which she has been involved."
Indeed, the citizen activists were particularly well informed and especially frugal in the use of their limited budget and peoplepower resources for the Campaign. As Napoli, on behalf of CAST's, stated on several occasions, "thousands of good, honest citizens, working together for the benefit of our community have made our victory possible."
Napoli added, "The direction of City policy has been changed. The reliance upon tax dollar subsidies to promote private business will be curtailed. Mayor Hammer will turn her attention to the needs of our community.
That afternoon, Wednesday after the election, the Student/Homeless Alliance met with City officials after weeks of rejection, to discuss the housing needs of many San Joseans who find themselves homeless. Hammer mayoral campaign was based upon promises to address the housing needs of many in San Jose, as well as a promise of greater attention to the needs of San Jose neighborhoods. Perhaps now the City officials will begin to address the needs of its citizens as it has promised. © La Oferta Newspaper.