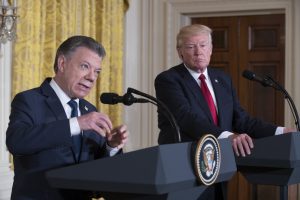 Washington, May 18 (EFE).- US President Donald Trump welcomed his Colombian counterpart, Juan Manuel Santos, to the White House on Thursday, appearing to express more interest in coca eradication, the anti-drug fight and the humanitarian crisis in Venezuela than in the Colombian peace agreement.
After meeting with Santos in the Oval Office, Trump reaffirmed at a joint news conference the US "willingness to assist Colombia's strategy to target and eliminate drug trafficking networks, illicit financings, coca cultivation and cocaine production."
He did not, however, make any reference – in his initial remarks before reporters, at least – to US aid to Bogota during the post-conflict period after that nation's peace agreement with the Revolutionary Armed Forces of Colombia (FARC) rebels, ending more than a half century of internal armed conflict.
The US president did, however, express his support for the peace pact with the FARC when a journalist asked him about it during the question session, saying that Santos "did a fantastic job. That's not easy after so many years of war. So … I really congratulate you. There's nothing tougher than peace, and we want to make peace all over the world. And you are really a great example of somebody that started it."
Trump's priority in his remarks, however, was to express his "alarm" about the increase in illicit cultivation of coca in Colombia, where coca production grew by 18 percent in 2016 to a record 188,000 hectares (about 470,000 acres) planted, from which an estimated 710 tons of cocaine could be produced, according to White House calculations.
Santos, in turn, said that Colombia was working to reduce coca production and combat drug trafficking networks.
The Colombian leader sought on his visit to the White House to emphasize the bilateral relations between the two nations and convince Trump that US support for Colombia during its post-conflict phase is in Washington's strategic interests.
Just a few weeks ago, Congress approved the funds former President Barack Obama had requested for the new post-conflict phase of US assistance to Bogota, including about $450 million in both diplomatic and defense aid.
Trump, however, has expressed his intention to cut the State Department budget by 26 percent, which could result in a smaller US contribution to Colombia in the coming fiscal year.
The US leader, meanwhile, said that the Venezuelan situation is a "disgrace to humanity," adding that the country is "poverty-stricken. People don't have enough to eat. People have no food. There's great violence. And we will do whatever is necessary – and we'll work together to do whatever is necessary – to help with fixing that. And I'm really talking on a humanitarian level."