Montevideo, May 20 (EFE).- A group of Uruguayan business owners and executives have developed a unique platform that offers a smarter way to make donations to Non-Governmental Organizations (NGOs), which seeks to break the paradigm of how people contribute to these organizations, its promoter Jorge Alvarez told EFE.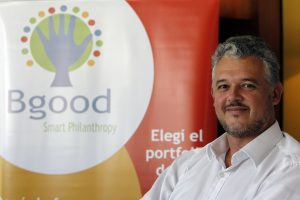 The project has been dubbed "Bgood," and through a digital system groups NGOs in portfolios according to the individual beneficent activities they perform, so that donors' contributions are distributed equitably among all the NGOs involved.
According to Alvarez, up to now there are 16 NGOs registered on the platform and some 40 more in the process of evaluation, while in the month it has been in operation it has received contributions from 10 countries.
"The idea is that people feel good when they're doing good. It also integrates the donor in the community," he said.
In that regard, he said the donor receives a report every six months about each and every donation made, which ensures "transparency and the good use of the money" so that people "don't have to wonder" which NGO they should donate to.
The beneficent organizations that make up the different Bgood portfolios all do their work in Uruguay, so another goal is to expand this service throughout Latin America, North America and Europe.
Up to now the platform has three types of NGOs, dedicated to social inclusion, the environment and education, respectively.
"Our aim is to constantly provide information to donors while also asking for their constant support. What we want is to create a synergy in which everyone helps each other," the Uruguayan engineer said.
He also noted that in 2016 this idea was studied in different environments like the innovation programs at Harvard University in the US, where it was chosen among the most innovative and most worthy of development.
The Bgood team is made up of six people, who carry out interdisciplinary work among the different NGOs.
"The big message is that there are people who want to do good and feel good doing it because they know exactly what they're doing," Alvarez said.