Caracas, May 21 (EFE).- Venezuelan President Nicolas Maduro on Sunday said that his US counterpart, Donald Trump, is deeply involved in "terrorist" activities and the violence that is unfolding in the South American nation with an eye toward "taking political control" there.
Maduro said on his weekly radio-television show that his country is facing an "attack by violent forces," "intolerance and generalized destruction," and that behind all this turmoil is "the imperialist hand of Donald Trump."
"Trump has his hands infected and stuck deeply into this conspiracy and this attack that has as its objective taking political control in Venezuela, recolonizing Venezuela," Maduro claimed.
Later, Maduro denounced the "fascist aggression" of the opposition, adding at the Caracas Metro, where he was spending part of the day working as a driver, that the Attorney General's Office, the Ombudsman's Office and the judiciary should join forces to condemn the violence and "persecution" he said was being perpetrated by the anti-government protesters.
He also called on his supporters to stage a "great march for peace" next Tuesday.
Meanwhile, the Public Ministry reported Sunday the death of a 23-year-old man in western Trujillo state after he was allegedly shot in the chest during a demonstration on Saturday.
The ministry said that Trujillo prosecutor Jose Luis Molina had been instructed to investigate the death of Edy Alejandro Teran Aguilar during a demonstration in the city of Valera, adding that an 18-year-old man and a 50-year-old woman had been injured in the protest.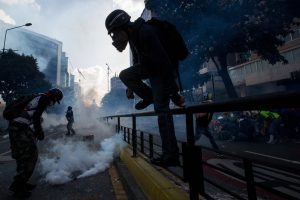 Authorities also said that on Saturday night "several armed people arrived at the site (of the protest) and fired … at the group of demonstrators" and, minutes later, the victims were transported to a local hospital.
With Teran's death, the number of fatalities in the ongoing wave of protests in Venezuela stands at 47.
In another statement, the Attorney General's office said that it will investigate the incident in which another 23-year-old man was run over by a vehicle at a protest on Francisco de Miranda Avenue in eastern Caracas.
At least 120 people were injured on Saturday during protests staged in the Caracas metro area, and three of them are in "delicate condition," the Venezuelan opposition said, accusing state security officials of perpetrating the "violence."
Opposition lawmaker Jose Manuel Olivares said at a press conference that "yesterday, just in … Caracas, there were more than 90 people injured," adding that in the nearby town of San Antonio de los Altos there were "30 people injured in the demonstrations."
For almost two months, Venezuela has been experiencing a wave of popular protests against the Maduro government that, aside from the 47 deaths, have resulted in hundreds of people injured and arrested.