July 22, 1992
By Yolanda Reynolds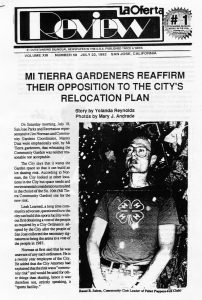 On Saturday morning, July 18, San Jose Parks and Recreation representative Jim Norman and Community Gardens Coordinator, Manny Diaz were emphatically told, by Mi Tierra gardeners, that relocating the Community Garden was neither reasonable nor acceptable.
The City says that it wants the Garden space so that it can build an ice skating rink. According to Norman, the City looked at other locations in the City but space needs and environmental considerations resulted in the choice of the So. 10th (Mi Tierra Community Garden) site for the new rink.
Leah Learned, a long-time community advocate, questioned how the city can build this spots facility without first obtaining a vote of the people as required by a city ordinance adopted by the City after the people of San Jose collected the necessary signatures to bring the arena to a vote of the people in 1987.
Norman at first said that he was unaware of any such ordinance. He is a tweny-year employee of the City. He added that the City-Attorney had explained that the rink was a "community rink" and would be used for other things than skating, hence it was therefore not, strictly speaking, a "sport facility."
That response brought a quick reminder from several people that a vote was required before the San Jose Arena could be built. City officials at that time, also said that the arena was a "community arena" and as such would be used for many community activities, including religious gatherings. It did require a vote of the people and won by a very slim majority after many promises were made.
The arena was promises to cost not more than $100 million. Interestingly, Norman said that he thought that a vote was not necessary in this instance because this rink was so much less expensive – only $10 million not the $200 million that the arena has cost. The "200 million figure is a considerably increase over the last reports that the City admitted to ($140 million +) which (plus interest) the citizens of San Jose will have to pay for "our" new downtown Arena.
Diaz and Norman were there to discuss relocation of Mi Tierra to several other sites. They said that because Mi Tierra gardeners did not wish to be split up and sent to different locations they want the group to select one of two sites available.
Even those who had just this year planted their first garden at Mi Tierra opposed being separated from their fellow gardeners.
Others, like Henry Alexander, added that he, his wife and three young children relied on the garden to supplement their food needs. He said that working in the garden not only helped reduce his grocery bills, but brought the family together. He did not want the garden moved because it is centrally located and easily accessible, not only to him, but to the other gardeners as well.
Noticeably missing from Saturday's meeting was WWII veteran, Frank. This writer met Frank at an earlier visit to the garden. Mrs. Hernandez, one of the gardeners explained that Frank did not attend Saturday's meeting because he thought that the meeting might bring on a heart attack. He strongly disagrees with the City's proposal for relocating the Garden for a variety of reasons. Frank says that the City's claim that the proximity of the Super Fund Lorenz properties raises the danger of toxic contamination is just so much "hot air." He may be right in saying that.
Saturday, a member of an engineering crew working at the intersection of E. Alma and So. Tenth St. said that there was no evidence of contamination seeping into the gardens and that it is not likely to occur, since their investigation has found that the contamination is heading towards Coyote Creek.
He added that the extent of the contamination (which seems to headnorthward toward the Bay) has not been determined. He says that the Environmental Protection Agency (EPA) is concerned that the contaminated water will soon be seeping into the Bay if it is not already.
Frank has several other reasons for opposing a move from Mi Tierra. Mi Tierra Community Garden is centrally located and well established. It takes at least three years for the soil to become as fertile as Mi Tierra is now. Frank's friends say he does not have time to wait for that to happen besides working the clay (which is a problem in the valley) out of the soil, requires very hard strenuous work – a chore none of the gardeners (especially those who helped establish Mi Tierra) want to have to do again. Understandably the oldest gardener at Mi Tierra, enjoys the respect and affection of his fellow gardeners. Frank, whose photo appeared in last week's issue of La Oferta, admits to be 80 years of age and says that for him and his other two WWII buddies. Bob and David, gardening is their greatest pleasure.  Frank explains that, for him, driving to another place is simply "out of the question."
Kathy Chavez Napoli, another community advocate who attended Saturday's meeting, questioned the process by which the proposed rink decisions had been made. Mr. Norman explained that the City decided, "about a month ago" to build the rink. He said, that at that time, City officials selected the contractor and developer from a pool of interested companies. He said that a Mariani family Development Corp. was selected to build the ice rink, Norman added that the Shark team needed a "regulation size practice rink."
That response raised even more questions from the obviously irritated group of gardeners – since it was not until June 30 (almost a month later) that the City Council adopted a "resolution stating the City's intent to finance the acquisition and construction of… a community ice rink."
Thus, it appears that the contract for the construction of the rink was made before there was any official Council public discussion and approval for this publicly financed ice rink – a legally questionable and irresponsible action – if such is the case.
The City Parks & Recreation staff said that they were there to tell the gardeners of two proposed sites for a new garden. The choices were Watson Park and Senter Park. Neither location appealed to those present. Park staff said that Senter Park would be an excellent location – along the borders of the Creek.
Many experienced gardeners laughed when they heard of the sites because of several additional problems. They said that they would need to terrace the gardens due to the lay of the land. Another is the proximity to the creek and the gophers and other little animals that are "nice in the wild, but fast become pests when they eat up a vegetable garden."
A representative from a 4H All club that uses the adjoining firing range came to protest the proposed rink. He said that the range was important to his 4H club which used the range to practice how to fire and use of air guns.
The Club leader said that construction of such a large facility must surely necessitate an Environmental Impact Report (EIR). Norman responded that an EIR was not necessary because the area was designated "industrial."
Napoli reminded him that an EIR is required even on industrial land. Norman added that the rink would not require a vote of the people because the "construction and operation would be financed by revenue bonds." This remark was again refuted because the City (San Joseans) is liable fa' any default and further the (free) land is owned by the City (San Joseans).
Revenue bonds (Certificates of Participation) were used to finance the new Convention Center (CC). So far that project which "was not going to cost the taxpayers of San Jose a cent," has drained between $8 and $11 million each year to service the CC's debt and help pay for its operation. Those millions come from the City's General Fund – the fund that pays for police, library books, parks and recreation and most of the other community services that the City is supposed to provide its residents.
Beyond those many millions, the City has indirectly incurred millions more in additional expenses related to that "money maker." The City has made hefty subsidies to a number of hotel developers (Wolfe, Di Napoli and Swig among others) who otherwise would not have built in downtown San Jose.
This rink, also, is supposed to be a "money maker." Norman said that he has had "hundreds of calls from San Jose youth asking for a place to practice ice hockey. "La Oferta asked for a listing of such calls but Norman said that there wasn't one.
Norman did admit that Parks and Recreation keeps record of the people on "waiting lists for most of the City's 14 gardens."
Manny Diaz said that he did not have a list of the gardeners at Mi Tierra He said that, President Ramon Ramos would not share the list with him. He added that Ramos would not open his record books for review.
Contrary to an earlier report in La Oferta that the plot rents depended upon the size of the plot – annual fees are collected to cover the cost of the water used per plot at the garden.
Richard Camarlinghi, a native San Josean, was very unhappy with the proposed rink. He said, "you wait I give the arena 4-5 years and it will be dead." He added that the city used to have a large ice rink on King. He said that after a few years, interest dwindled and the rink became a grocery store. He couldn't remember the exact address but said that now housing can be found where that rink originally stood.
Camarlinghi says most San Joseans are working people and that they don't have time or much money for such luxuries as skating rinks.
Camarlinghi says that he has been at Mi Tierra for "seven or eight years." finds gardening restful, enjoys the comraderie of his fellow gardeners and is especially pleased with the enjoyment he sees among the families who come together to work on their garden.
Indeed, from appearance, the longtime gardeners serve as the greatest testimony for working the soil and eating organically grown crops. Richard Camarlinghi, like Frank and many others, seemed years younger than they said they were.
Kathy Napoli says that as in the novel the "Milagro Beanfield War" (based on a true account where developers would have degraded the countryside in Taos. N.M.), the proposed ice rink is another such "boondoggle project.
Mi Tierra gardeners asked that Norman let City Hall know how they felt and to let them know that they want more and better answers to their questions. Norman said that he would indeed let City Hall know how they felt.
Mi Tierra gardeners informed La Oferta that they are waiting for a response to a letter written to their City Councilperson, George Shirakawa, expressing their concerns.
The San Jose City Council takes off for the month of July on a summer break. The Council is due back at City Hall August 1.
This garden, Mi Tierra, holds special feeling for many in the community because it provides so much more than just a place to grow vegetables. It was the first community garden established in San Jose. In addition, so many who go there find a sense of community with their fellow gardeners as well as a feeling of pride for the significant contribution they each make to their families' meals.
Mr. Hernandez who with his wife and family has a garden at Mi Tierra says that on average tons of vegetables are harvested at Mi Tiena each year.
From the remarks made at the meeting by the gardeners and me evidence of the loving care they give to their gardens at Mi Tierra, this community Garden has been a great success and a project that the City can be very proud of.
The City is looking for ways to bring a sense of community and leisure activities to San Jose that the whole family can enjoy – Mi Tierra provides that – to around 150 families every day.
If, as Mr. Diaz implied there are problems with accountability on the part of the President- that seems to be his responsibility – that of helping the Garden officers to develop a trust in him and for Diaz to help the officers develop the needed skills for accurate record keeping.
Perhaps this controversy will awaken the City to the tremendous benefits gardening has to offer its citizens and prompt them to find even more park space for more community gardens. © La Oferta Newspaper.