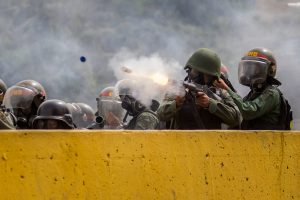 Caracas, May 22 (EFE).- At least three people were shot on Monday during a demonstration in eastern Caracas, according to a statement by the Public Ministry released hours after the marches held by doctors and healthcare workers in the capital were dispersed by security forces.
On its Twitter account, the Public Ministry said that the prosecutor of the Metropolitan Area of Caracas "will investigate the incident in which three persons were shot during a demonstration in Baruta," a municipality located in the east of the capital.
The security forces used tear gas to disperse anti-government marches held by doctors and healthcare workers who tried to reach the headquarters of the Health Ministry, in the center of the city.
Hundreds of opposition and healthcare workers took to the streets to demand the opening of a "humanitarian channel" to facilitate the import of medicines and medical supplies into Venezuela and alleviate the acute shortages at hospitals.
At the same time, there was also a protest held by pro-government doctors in the center of Caracas in support of the Constituent Assembly, convened by President Nicolas Maduro.
The mobilizations in Venezuela have so far left at least 49 people dead, as well as hundreds wounded and arrested, according to reports provided by the prosecution and opposition leaders.