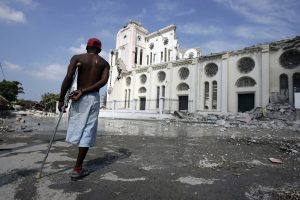 Washington, May 22 (EFE).- The US government announced Monday a six-month extension of the Temporary Protected Status (TPS) for more than 58,000 Haitians who fled their country following the devastating earthquake of 2010.
The Department of Homeland Security (DHS) had until this Tuesday to announce the extension, which means that Haitians now accepted for the program will have 60 days to present the required documents to avoid having to leave the country next July 23, when the new interim protection expires.
Immigrant defenders have pressured Homeland Security Secretary John Kelly to extend the Temporary Protected Status on grounds that Haiti suffers a food shortage, unemployment and widespread poverty, and is incapable of repatriating thousands of its citizens.
Secretary Kelly said that "after careful review of the current conditions in Haiti and conversations with the Haitian government, I have decided to extend the designation of Haiti for Temporary Protected Status for a limited period of six-months."
DHS officials said Kelly had obtained the commitment of Haitian authorities that, when conditions permit, Haitian citizens who now enjoy that protection will be accepted back to their country in order to help with its reconstruction.
"We plan to continue to work closely with the Haitian government, including assisting the government in proactively providing travel documents for its citizens," Kelly said.
"I believe there are indications that Haiti – if its recovery from the 2010 earthquake continues at pace – may not warrant further TPS extension past January 2018," he said
Though this is an extension of just six months instead of the usual 18, the decision shows a softer touch than the hard-fisted immigration policy of US President Donald Trump, as expressed in his electoral campaign rhetoric.
The US government offered TPS for Haitians after the powerful quake on Jan. 12, 2010, which left thousands dead.
The unfortunate Caribbean nation also suffered a cholera epidemic that spread to almost 800,000 citizens and left 9,000 dead.