August 22, 1992
By Yolanda Reynolds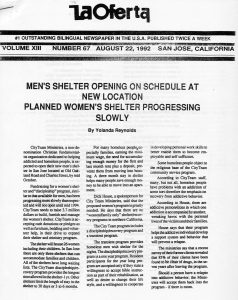 City Team  a non-denomination Christian fundamentalist organization dedicated to helping addicted and homeless people, is expected to open their new men's shelter in San Jose located at old Oakland Road and Charles Street by mid-October.
Fundraising for a women's shelter and "discipleship" program, similar to that available for men, has been progressing more slowly than expected and will not open until mid 1994. City Team needs to raise 3.7 million dollars to build, furnish and manage the women's shelter. City Team is accepting cash donations or pledges as well as furniture, bedding and volunteer help, in their drive to expand their shelter and ministry program.
The shelter will house 26 women including their children. In San Jose there are only three shelters that can accommodate families and children. All of the shelters have long waiting lists. The City Team discipleship/recovery program provides the longest time allowed in the shelter-1yr. Other shelters limit the length of stay in the Shelter to 30 days or 3 to 6 months.
For many homeless people, especially families, earning the minimum wage, the need for accumulating enough money for the first and last month rent plus a deposit, prevents them from moving into housing. A three month stay in shelter helps many people save enough money to be able to move into an apartment.
Dick House, a spokesperson for City Team Ministries, said that the proposed women's program is greatly needed. He says that there are no "women/family only" shelter/recovery programs in northern California.
The City Team program includes a discipleship/recovery program and a transient program. The transient program provides homeless men with shelter for the nights. The discipleship/recovery program is a one year program. Resident participants for the year-long program are accepted only if they state a willingness to accept bible instruction as part of their rehabilitation, as well as desire to change their life style, and a willingness to cooperate in developing personal work skills to better enable them to become employable and self sufficient.
Some homeless people object to the religious base of the City Team community service program.
According to City Team staff, many, but not all, homeless people have problems with an addiction or some sort-therefore the emphasis on recovery from addictive behavior.
According to House, there are addictive personalities in which one addiction is accompanied by another wreaking havoc with the personal lives of the victims and their families. House says that their program helps the addictive individual develop a support system and behavior that will prevent a relapse.
The ministries say that a recent survey of their former clients revealed that 85% of their clients have been found to be clean of drugs, in seven years after leaving the program.
Should a person have a relapse into addictive behavior, the Ministries will accept them back into the program – if there is room.
The Ministries does not accept State funds and is not a member of the United Way. It raises all of its funds through donations and the services of hundreds of volunteers.
The Ministries is a "fundamentalist" organization and holds strong convictions on several very controversial subjects – abortion and homo-
sexuality.
The City Team Ministry has a Board of Directors and 2 full time staff of 55, whose work is supported by nearly 250 volunteers.
House explained that, by the time an individual leaves the one year recovery program, the client must have identified a support group in the community. Generally, House says it is church groups that offer that support.
House said that upon completion of the one year recovery program, if a person was a Buddhist or a member of another Eastern religion, they were encouraged to go there for a support group if that was their preference.
San Jose has become so very diverse that, to help its residents requires increased awareness and sensitivity. In San Jose, there are many people who are members of "Eastern" religions.
The Ministries has, on staff, trained and credentialed therapists and counselors. The Ministries program focuses on the spiritual, physical and psychological health of their clients. Many of the other shelters – some much larger but less comprehensive focus on providing short term shelter with a limited amount of counseling and job skill training.
City Team Ministries also has community based programs. Currently, they have a program for youth and families in the Mayfair and Poco Way areas of San Jose. Besides Bible reading clubs, these programs include tutoring, summer camp and a variety of year around recreational programs.
The City Team Ministries has a "strong, cross cultural training program" which helps the Ministry better provide its service to the community. The cross cultural training is equally important for many of their clients who are refugees from other lands, and have now made San Jose home. The cross training helps them adjust to their new home in a strange new country.
The Ministries has programs in Spanish for the large Spanish speaking clientele that they serve and works closely with fundamentalist pastors of a number of churches serving Spanish speaking communities. City Team also has a growing Cambodian language program in San Jose.
Mr. House explained that some of the Ministries most faithful source of volunteers are the people who have participated in the City Team programs. He explained that after they have been able to get established, many say that they want to help others, as they were once helped, by the programs offered at the Ministries.
As the state finds itself in greater financial difficulties, the work of volunteers and non-profit organizations is essential in helping those less fortunate.
House said that he is very pleased that the new shelter will be opening before it becomes cold. He said that the need for assistance is growing. In South County, where there is a small shelter program for families (9), there is a six month waiting list. That shelter only allows families to stay there for 30 days.
The new location of the Ministries on old Bayshore will accommodate an expanded shelter program. It will accommodate 55 men transient dorm and 75 men in the discipleship/recovery program, up from 25 in the recovery program and 35 in the transient from.
The ministries accept donations as well as gins of clothing and any item that can be used in a household to help families in need. There is always a team of volunteers who help sort the clothing, furniture and household goods that are given free to families in need. According to House, City Team serves approximately 35 families per week.
A special interest of City Team is helping families acquire the household necessities that are needed to has a warehouse where donated items are carefully sorted, so that needy families can come by, and pick up clothing and other household items that they need.
The City Team Ministry is governed by the Board of Directors and an and Advisory Board. City Team is a San Jose based organization, with a smaller program in operation in Philadelphia, Pa. The ministry program for street people began in San Jose after a man, Paul Meyer, an alcoholic, turned his life around by participating in a program similar to what is now known in San Jose as the City Team Ministries.
He and his wife began their program 35 years ago. When they retired, their program became City Team Ministries and has grown considerably, it now has an operating and capital budget exceeding $3 million dollars. House said that an objective of the program is to limit operating costs to less than 20% of each dollar donated to the ministries.
Some non-profit organizations do not diligently control their operating costs and have fallen into disfavor with their donors, who want so much of their donation used to directly help the clients.
In 1990, the City Team annual report indicated that the Ministries served over 1 thousand meals, provided 8,760 nights of shelter, distributed food boxes to almost 6,000 families, had over 500 children participate in the recreation programs, sent over 700 children to camp, had 98 men complete the discipleship and recovery program, helped almost 1,500 families with furniture and household items and provided English as a Second language Instruction to over 70 students as examples of the services rendered in the community.
To donate to the Ministries or if you wish more information on City Team Ministries, you may contact them at (408) 988-4770. © La Oferta Newspaper.