New York, May 28 (EFE).- Former Peruvian President Alejandro Toledo proclaimed his innocence in the corruption cases filed against him and accused his rivals – Keiko Fujimori and Alan Garcia – of a political conspiracy against him.
The former president gave a lengthy interview to EFE, putting an end to his media isolation and trying to come out fighting against what he called the "political persecution" of his rivals.
With his extradition requested by Lima, and with US authorities still not having responded to that request, Toledo said over and over that never in his life had he done "anything illicit" that would have allowed him to "have (enough) money" to "have no concern" about his future.
Suspicions against the former leader, who governed Peru from 2001-2006, arose in February on the basis of testimony by the former Lima representative for Brazil's Odebrecht construction firm, Jorge Barata, who after being arrested revealed a long list of bribes paid by the firm over several Peruvian presidencies totaling some $29 million, $20 million of which – he said – went to Toledo.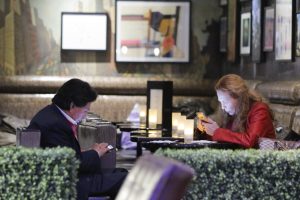 "I can tell you, in the name of the person I love most, who is in heaven and is my mother: Never! Let Mr. Barata come to Lima or to the US and say … how, when and into what account (I made the deposits)…" Toledo declared.
After spending several months at Stanford, where he has lived since last September, the 71-year-old Toledo this week visited New York for a conference.
When asked by EFE about why Barata would mention him in his accusation, Toledo said that the Odebrecht rep had become an "effective collaborator" with Peruvian authorities and was thus seeking to elude more jail time.
Toledo said that "Garcia has always had enormous control of the judicial branch (in Peru)," in addition to having an alliance with the supporters of Fujimori, who hold a majority in Peru's Congress.
Regarding, Fujimori, Toledo said that "she hates me to death" because "we toppled her dad" (former President Alberto Fujimori) in 2000 and later "we cut short her bid to become president" in 2011 and 2016, by supporting her rivals Ollanta Humala and Pablo Kuczynski, respectively, in the runoffs.
Toledo said that "nowadays I'm … politically persecuted and they want me to disappear from the picture so that I don't impede Fujimori in the next election."
In February, a Peruvian judge issued a national and international order for Toledo's arrest.
The warrant specified that he would be held in preventive detention for 18 months on charges including receiving a $20 million bribe from Odebrecht in exchange for granting the company a lucrative contract to build a highway connecting Peru and Brazil.
The investigation stemmed from a massive settlement that Odebrecht and petrochemical unit Braskem reached in December with authorities in the United States, Brazil and Switzerland.
Those companies pleaded guilty and agreed to pay at least $3.5 billion to resolve charges arising out of bid-rigging schemes that began as early as 2001 and involved the payment of hundreds of millions of dollars in bribes to government officials around the world.