Mexico City, May 30 (EFE).- Hundreds of relatives of people who disappeared while in the custody of police or soldiers marched in the Mexican capital on Tuesday to demand accountability for the fate of their loved ones.
Participants made their way from the Government Secretariat, which has authority over federal law-enforcement agencies, to the office of the prosecutor responsible for pursuing violators of human rights.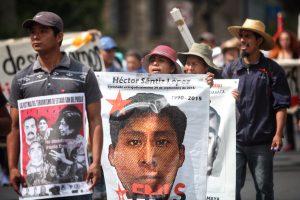 Once there, a delegation of marchers met with prosecutor Roberto Campa to request information about the progress of investigations into disappearances.
Protesters displayed blown-up photos of their missing relatives and carried placards with slogans denouncing forced disappearance as a "state crime."
The event in Mexico City was part of a tour to raise awareness about the disappeared and "other victims of state terrorism," activist Nadin Reyes Maldonado, whose father went missing a decade ago, told EFE.
Other marchers complained about the presence of paramilitaries in their communities and about the unwillingness of authorities to keep them informed about investigations.
Mexico has more than 30,000 missing persons, according to figures from the National Registry of Missing or Disappeared Persons.