Los Angeles, Jun 1 (EFE).- A Spanish actor who presented some of this year's Platino Prize nominations said the existence of these awards would help make the dreams of Ibero-American cinema and television a profitable reality.
"I see these prizes as a window to the possibility of co-productions involving many countries. Thanks to co-productions, our art can be profitable," Miguel Angel Silvestre said in an interview with EFE after the nominations were unveiled Wednesday at The Beverly Hotel in Los Angeles.
"Many countries of Latin America and even Spain have suffered because of the economic situation. This industry has been very vulnerable, but having that option of co-producing among several countries gives us the chance for these projects to be carried out and become a reality," he said.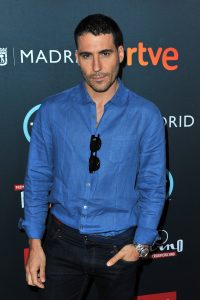 Silvestre, Mexican-born actress Kate del Castillo, Colombian actress Angie Cepeda and American actor Edward James Olmos on Wednesday announced the nominations for the Platino Prizes for Ibero-American Cinema, whose fourth awards gala will take place July 22 at Madrid's La Caja Magica stadium.
"A Monster Calls," an English-language fantasy drama film directed by Spain's Juan Antonio Bayona, led the way with seven nominations, most of them in the technical categories.
"Neruda" was next with five nominations, while "Desde alla" (From Afar), "El ciudadano ilustre" (The Distinguished Citizen), "El hombre de las mil caras" (The Man with Thousands Faces), "Julieta" and "La delgada linea amarilla" (The Thin Yellow Line) each garnered four nods.
The five finalists for the top award, Best Ibero-American Fiction Film, are "Aquarius" (Brazil), "El ciudadano ilustre" (Argentina-Spain), "El hombre de las mil caras" (Spain), "Julieta" (Spain) and "Neruda" (Chile-France-Argentina-United States-Spain).
"These prizes speak to our diversity, to how several countries come together to tell a story that concerns us all for cultural (reasons)," the actor said.
Silvestre, who rose to stardom in Spain as a cast member of the Colombian TV series "Sin tetas no hay paraiso" (Without Breasts There Is No Paradise), also has enjoyed success playing one of the main characters in "Velvet," one of the nominees for a Platino for Best Ibero-American Mini-Series or Television Series.
He also had been working in Hollywood on the Wachowski brothers' science fiction drama Web television series "Sense8," which Netflix canceled on Thursday after two seasons.
"My life is still the same but in another language," Silvestre said about working in the US. "I miss speaking Spanish and working in my language, but it's something I hope happens very soon," the 35-year-old actor said.
But the main highlight of 2017 for Silvestre will come with the premiere of the third season of "Narcos," one of Netflix's most popular original series, later this year.
"I was a fan of 'Narcos' as a viewer. I saw the (first) two seasons and enjoyed them a lot, so when they gave me the chance to be there … I said 'yes' with my eyes closed practically," the actor said.