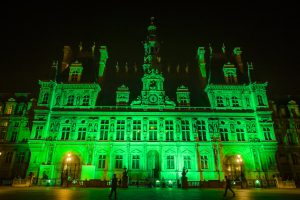 Mexico City, Jun 1 (EFE).- Mexico "maintains its support and commitment to the Paris Agreement to halt the effects of global climate change," President Enrique Pena Nieto said Thursday after the announcement by the United States government that it is abandoning the pact.
"We will continue to implement the goals set out in our Nationally Given and Determined Contribution (NDC)," the president added in a tweet.
Pena Nieto revealed his position towards the matter in a joint statement by the secretariats of Foreign Affairs and Environment and Natural Resources, which reiterated Mexico's "unrestricted support and commitment" to the Paris Agreement.
The two institutions affirmed that Mexico "will continue to implement the goals set out in its Nationally Given and Determined Contribution", as well as its National Strategy against Climate Change.
The text pointed out that global climate change is an incontrovertible fact, based on scientific evidence.
"Counteracting it requires the cooperation of all countries, under the principle of common but differentiated responsibilities," he said.
He said that the agreement contains the concrete commitments of all countries to address climate change and global warming, and that it has been negotiated for over five years.
"It is one of the great successes of the multilateral cooperation of this century", he emphasized.
He also said that the instrument is "one of the most important pillars for a more stable, prosperous, just and sustainable world".
The two departments indicated that Mexico distinguished itself as one of the main leaders in the negotiation of the Paris Agreement, and assured that the country will continue "to encourage international cooperation, without restrictions, so that the agreement is applied in its entirety."
Maintaining Mexico's commitment to the agreement "is not only a demand of our society, but also indispensable to move towards a more sustainable, competitive and resilient economy."
"Actions to slow down climate change are a moral imperative because we owe it to future generations. They are socially necessary actions because they respond to the immediate interest of our societies and are economically viable because they foster new technologies that generate development and well-being in our countries", they said.
On Tuesday, President Donald Trump announced his decision in a speech from the White House to withdraw the United States from the Paris Agreement on Climate Change, adopted by nearly 200 countries in 2015.
With this announcement, the US will "cease all implementation" of its climate commitments under the Paris framework, which include former President Barack Obama's goal of reducing greenhouse gas emissions by 26% to 28% by 2025 at the 2005 levels.