September 23, 1992
By Yolanda Reynolds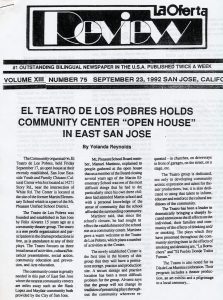 The Community organization, El Teatro de Los Pobres, held Friday September 17, an open house at their recently established, San Jose Eastside Youth and Family Chicano Cultural Center which is located at 14271 Story Rd., near the intersection of White Rd. The Center is located at the site of the former Martin Elementary School which is a part of the Mt. Pleasant Unified School District.
The Teatro de Los Pobres was founded and established in San lose by Felix Alvarez 15 years ago as a community theater group. The teatro is a non profit organization and participation in the drama productions is free, as is attendance at any of their play. The Teatro focuses on three broad areas of activities, cultural/historical presentations, social action, community education and prevention, and Arts education.
The community center is greatly needed in this part of East San Jose where the nearest community centers are miles away such as the Hank Lopez and Mayfair community both provided by the City of San Jose.
Mt. Pleasant School Board member, Manuel Martinez, explained to people gathered at the open house that as a member of the Board closing several years ago of the Martin Elementary School was one of the most difficult things that he had to do; particularly since his own three children had attended Martin school and with a personal knowledge of the sense of community that the school afforded the surrounding community.
Martinez said, that since the school's closure, he had sought to effect the establishment of the school site as a community center. Martinez gave a warm welcome to the Teatro de Los Pobres, which plans a number of activities at the Center.
The newly established Center is the first time in the history of this group that they will have a permanent storage, practice and production site. A secure storage and practice location has been a most difficult problem for the group. Alvarez says that the group will not change its audition of presenting plays throughout the community wherever requested – in churches, on driveways in front of garages, on the street, on a stage, etc.
The Teatro group is dedicated, not only to developing community artistic expression and talent for theater productions, but, it is also dedicated to using that talent to inform, educate and reinforce the cultural traditions of the community.
The Teatro has been a leader in dramatically bringing a sharply focused attention to the ill effects on the individual, their families and community of the effects of drinking and/or smoking. The plays which they have presented throughout the community alerting them to the effects of smoking and drinking are, "la Bonachera" and "El Pueblo Donde Todos Fuman."
The Teatro is also noted for its Dia de Los Muertos celebration. Their program includes a theater production, an art exhibit and a pilgrimage to a local cemetery.
Remembering of the Dead is a long-time tradition that occurs in a number of cultures, including that of the descendants of Meso Americans, who trace this tradition back 4,000 years.
At the Open House, the Teatro announced its year long schedule. They plan a number of ongoing activities, one of which is a "low impact" exercise class entitled. "Tex-Mex Aerobics." The class meets on Monday and Wednesday from 5:30 – 6:30 pm. The instructor of this class is Juanita Ramirez, a nearby resident now on unpaid leave front her teaching position in the Alum Rock School District. The group exercise to the music of such singing stars as Little Joe and Flaco Jimenez, among others.
Other scheduled activities are art workshop on such subjects as; how to design and make masks, how to design and produce papel picado (cutout paper traditionally used as decoration for many sorts of celebrations), how to design and construct altars for celebrations, particularly el Dia de Los Muertos and dance and on on custom design and construction.
Mr. Alvarez, a playwright and a professionally trained family and youth counselor, will also offer Family Education Workshops (Talleres Sobre Ia Familia) covering such topics as Family Wellness, Cara y Corazón, Flor y Canto, Parent Involvement and Breaking Away From Smoking.
Alvarez announced that he is currently conducting research for a new play on nutrition. Alvarez pointed out that when he researched and completed the play on drinking and smoking, he quit drinking and later smoking. He bashfully said that he was worried about the consequences of his research on nutrition – which brought chuckles from everyone, since most Americans sport excess inches on their bodies – inches that exercise and proper nutritional habits would correct.
There are many diseases that are commonly associated with a lack of exercise and over weight, such as diabetes and heart problems. According to medical experts, Hispanics and Native American Indians have a high incidence of diabetes – a debilitating and life threatening illness.
In these times of reduced funding for social programs, El Teatro de Los Pobres, which has survived through the generosity and dedication of its membership as well as, the donations from the community these 15 years, is slowly expanding – at a critical time for the well-being of the community.
If there is to be continuing social stability throughout the City of San Jose, much of it will be because of the dedication of groups sucha El Teatro de Los Pobres. They offer to help parents in coping with these very difficult times, when every day one hears (even in our own and nearby cities) about some youngsters, openly carrying weapons, others pregnant, in areas where streets and side-walks are littered with garbage and walls of businesses and homes covered with scribbling that can not in any way be considered art.
San Jose is fortunate in that it has a number of highly committed, unselfish and knowledgeable leaders who care about our community. More attention must be paid to the residents of all parts of a city. Some parts of any major city could easily erupt into utter chaos, as has recently occurred in Los Angeles.
Over the years, the Teatro has received some funding from local Agencies such as; the Office of Cultural Affairs, City of San Jose, the Arts Council of Santa Clara County, The family Health Foundation of Alviso Inc., the Santa Clara County Health Department and the Bureau of Alcohol Services among others. Most of its support, however, comes directly from donations within the community.
The Teatro has locked horns with other "community" organizations that have traditionally received most, if not all, of their funding for community celebrations from the alcohol and tobacco interests. Through the Teatro's work, the community has become aware that these companies have deliberately targeted the latino market as a way to make money selling products that can ruin people's health destroy their families and even cause death to many.
The Teatro Board of Directors are: Javier Rodriguez, Dolores Marquez, Mandy Llamas, Armando Bravo, Mary Contreras, and Victor Perez.
For more information on El Teatro de Los Pobres or the activities planned at the Center, contact them at (408) 280-7019. © La Oferta Newspaper.