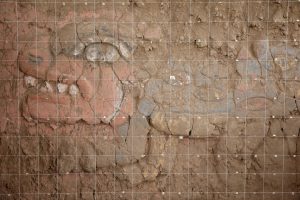 Lima, Jun 9 (EFE).- Depictions of ferocious and fearsome serpents, multi-colored big cats and other mythological creatures associated with Peru's ancient civilizations have begun to emerge from the walls of a long-buried temple being excavated in downtown Lima.
The high-relief polychrome friezes at the Huaca Garagay temple complex date back some 3,500 years and are an extraordinary example of the art of South America's first civilizations.
No other similar representations have been found belonging to contemporaneous cultures, archeologist Hector Walde, who is directing the excavations, told EFE.
To find similar multi-colored friezes, it is necessary to travel roughly 800 kilometers (500 miles) north of Lima to Huaca de El Brujo and Huaca de la Luna, which were built much later than Garagay by the Moche civilization that thrived several centuries before the Inca Empire.
The friezes decorated the walls of the atrium of the Huaca Garagay, one of the largest pre-Columbian temple complexes in the Peruvian capital. The complex includes a 30-meter-high (98-foot-high) stepped, flat-topped pyramid and is located in a 22-hectare (54-acre) area near Lima's colonial district.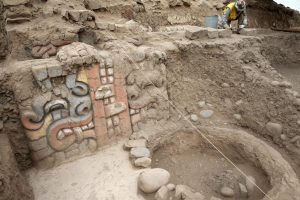 There, several weeks ago, Walde's team found depictions of two enigmatic beasts: a spotted big cat and another figure comprising two impressive and opposing faces with huge fangs, separated by a vertical row of teeth.
The figures are probably representations of animals that people believed they transformed into when entering into a trance while using hallucinogenic substances during rituals and ceremonies.
The images are painted red, blue and yellow.
But archaeologists found several layers of paint, indicating that the carvings were carefully preserved for a long time and painted on different occasions, Walde said.
Garagay will not be opened to tourists until a roof is built over the atrium and other measures are taken to ensure the preservation of the high-relief friezes.
Luis Martin Bogdanovich, who is heading up the Metropolitan Municipality of Lima's efforts to restore the city's historical district, told EFE that the plan was to mostly uncover the temple's three 25-meter (81-foot) walls by the end of 2018.