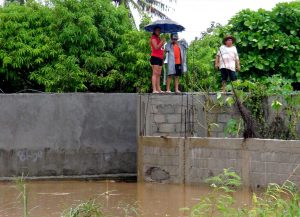 Mexico City, Jun 13 (EFE).- Tropical Storm Calvin weakened in the past few hours and has been downgraded to a tropical depression, the Mexican weather service said Tuesday.
The weather system is dumping heavy rains on the southern states of Oaxaca and Guerrero.
The remnants of Calvin were about 90 kilometers (55 miles) north of Puerto Angel, Oaxaca, at 1500 GMT with maximum sustained winds of 45 kph (30 mph).
The tropical depression is moving northwest at 7 kph (5 mph).
The weather service warned marine interests and residents of coastal areas that the storm could bring heavy rains to Oaxaca, Guerrero, Chiapas and southern Veracruz states.
Tabasco and the southern part of Puebla state, as well as Morelos state, Mexico City and Mexico state, which surrounds the Federal District and forms part of the Mexico City metropolitan area, may also be affected by rain from the storm.
The storm is expected to continue weakening as it moves over land, the weather service said.