Washington, Jun 13 (EFE).- US Attorney General Jeff Sessions said in Senate testimony Tuesday that he never met with any Russian government official with the purpose of influencing the outcome of the 2016 presidential election and denied having a third meeting with the Kremlin's ambassador to Washington.

Sessions made those remarks during an appearance before the Senate Intelligence Committee, which is investigating Russia's alleged meddling in the election and any potential collusion between President Donald Trump's administration and the Kremlin to help ensure the latter's victory over Hillary Clinton.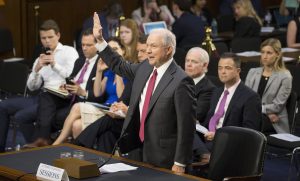 "I have never met with or had any conversations with any Russians or any foreign officials concerning any type of interference with any campaign or election. Further, I have no knowledge of any such conversations by anyone connected to the Trump campaign," Sessions said in his opening statement.

"The suggestion that I participated in any collusion or that I was aware of any collusion with the Russian government to hurt this country, which I have served with honor for over 35 years, or to undermine the integrity of our democratic process, is an appalling and detestable lie," Sessions, who represented the state of Alabama in the Senate from 1997 to 2017, added.

He also hit back at remarks made by former FBI Director James Comey, who suggested in testimony to that same Senate panel last week that Sessions recused himself from any current or future investigation of possible Russian interference in the 2016 presidential election due to certain "facts" that had not yet been made public.

Comey said he could not disclose what those facts were but later told members of the Senate Intelligence Committee in a closed-door hearing that Sessions may have had a third, undisclosed meeting with Sergey Kislyak, Russia's ambassador to the US, at the Mayflower Hotel in Washington DC.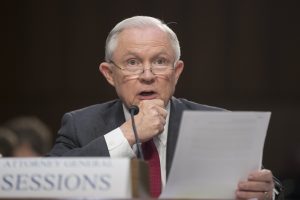 Sessions denied having a secret meeting with Kislyak at that hotel, saying he had participated there at a reception and may have come across the Russian ambassador.

The attorney general recused himself from the Russia probe in early March after revelations that he had met with Kislyak on two occasions during last year's presidential campaign.

Two months earlier, Sessions had said in a hearing on his nomination to serve as attorney general that he was "not aware" of any communications between the Trump campaign and Russia.

After the revelations surfaced, Sessions said that he should have given a more considered response to Sen. Al Franken (D-Minn.) at the confirmation hearing.

But he dismissed the notion that he was involved in a "continuing exchange of information" between the Trump campaign and the Russian government.

Sessions, who said Saturday he wanted to appear before the Senate panel to address questions about Russia raised by Comey, spoke about the circumstances surrounding his recusal during his opening statement Tuesday.

"I recused myself not because of any asserted wrongdoing on my part during the campaign, but because a Department of Justice regulation, 28 CFR 45.2, required it. That regulation states, in effect, that Department employees should not participate in investigations of a campaign if they have served as a campaign advisor."

During his opening statement, Sessions said he would respond to questions as fully as possible but stated that he would not reveal the content of confidential communications with Trump.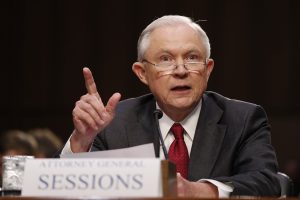 That assertion led to heated questioning from Sen. Ron Wyden (D-Ore.), who accused his former colleague of "stonewalling" the Russia probe.

"The American people have had it with stonewalling. Americans don't want to hear that answers to relevant questions are privileged and off-limits, or that they cannot be provided in public," Wyden said.

Sessions, however, denied the accusation, saying that he was "following the historic policies of the Department of Justice. You don't walk into any hearing, or committee meeting, and reveal confidential communications with the president of the United States."

Comey, whom Trump abruptly fired last month, alleged in a memo that the president had asked to meet with him alone and during that meeting had requested that he end the FBI's investigation into former National Security Adviser Mike Flynn. Trump denies the allegation.

Flynn had resigned the previous day after it emerged that he had misled Vice President Mike Pence about the content of telephone conversations with the Russian ambassador to the US.

Comey told senators during his testimony last week that he did not tell Sessions about what was said during his one-on-one meeting with Trump because it seemed clear the Sessions would be recusing himself from the Russia investigation (which later occurred).

Sessions said in his testimony Tuesday that Comey came to him and expressed concern about being left alone with Trump, but he said that in and of itself was not problematic.

"He didn't tell me at that time any details about anything that was said that was improper," Sessions told the committee's vice chairman, Mark Warner (D-Va.).