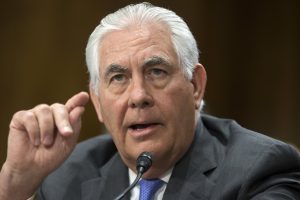 Washington, Jun 15 (EFE).- The US Senate voted Thursday to approve legislation tightening the sanctions against Russia in response to Moscow's alleged meddling in the 2016 presidential election and against Iran.
On Wednesday, senators agreed to an amendment to include sanctions against Moscow in the text that, initially, was designed only to increase pressure on Tehran.
The legislation was approved in the upper house in a 98-2 vote despite the fact that the Donald Trump administration had insisted that lawmakers be more flexible with the Kremlin.
The plan, which still needs to get the green light from the House of Representatives and the White House, would expand sanctions on the Russian defense and military intelligence sectors and on those responsible for cyberattacks, and it would limit Trump's ability to ease those restrictions.
Secretary of State Rex Tillerson this week expressed his reticence about the sanctions package, warning that it would endanger the effort he is spearheading to smooth out relations with Moscow, in particular regarding Syria.
"I would urge Congress to ensure any legislation allows the president to have the flexibility to adjust sanctions to meet the needs of what is always an evolving diplomatic situation," Tillerson said during a hearing on Wednesday before the House Foreign Affairs Committee.
"Essentially, we would ask for the flexibility to turn the heat up when we need to, but also to ensure that we have the ability to maintain a constructive dialogue," he added.
The plan approved by the Senate would impose new sanctions on those who engage in "malicious cyber activity" in Moscow's name, those who supply arms to the government of Syrian President Bashar al Assad, or people linked to the Russian intelligence and defense sectors, among others.
The accord also gives Congress 30 days – or 60 days, if it is close to the August recess – to review and potentially block Trump's action, if the president were to decide to lift or relax sanctions on Moscow.
In addition, the accord complicates the lifting of sanctions already imposed on Russia by the Barack Obama administration and allows them to be expanded to other sectors of the Russian economy.