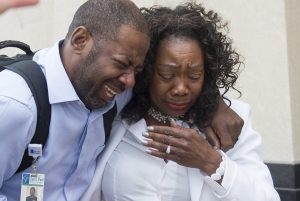 Washington DC, Jun 17 (EFE).- A court in Minnesota has acquitted a police officer who shot dead an unarmed black man whose death was broadcast by his girlfriend on Facebook.
A jury on Friday declared Jeronimo Yanez not guilty of second-degree manslaughter and reckless discharge of a firearm.
In July 2016, Yanez shot Philando Castile, 32, at point blank range during a traffic stop in the capital of Minnesota, St. Paul.
Yanez thought Castile fit the description of a robbery suspect and was reaching for a gun.
Castille's girlfriend, Diamond Reynolds, recorded the scene after the shooting and broadcast it on Facebook.
The death of the man, who had been stopped by the police almost 50 times in a decade despite having no criminal record, has renewed debate over the excessive use of force by law enforcement against the black community.
"The system in this country continues to fail black people and will continue to fail us," Valerie Castile, the victim's mother, said after hearing the verdict.
The verdict triggered protests in St. Paul by hundreds of people, who view it as another example of how police reforms have failed to end violence against black people in the country.
Although Yanez may now go free he will lose his job at the St. Anthony police department, which said "the public will be best served if Officer Yanez is no longer a police officer in our city."
According to The Washington Post newspaper, Castile was one of 963 people shot and killed by police in the country in 2016.