Caracas, Jun 17 (EFE).- The Venezuelan opposition united within the MUD coalition held a religious demonstration Saturday, in which hundreds of thousands of its supporters poured into the streets to pray for peace and pay tribute to those who have died in the wave of protests across the country and to ask for freedom for those detained by government forces.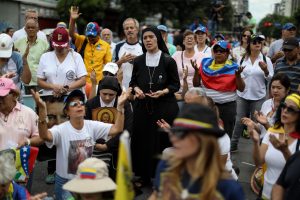 "This Saturday #17 Jun the faith of Venezuelans will unite us to go into the streets and say a prayer for peace in our country. We'll see you!" was MUD's invitation to the protest on Twitter.
The deputy speaker of the National Assembly legislature, Freddy Guevara, said on the same social network:
"Back into the streets again from the usual gathering points, this time to strengthen our faith. The escalation of pressure that is coming demands it! ##Marcha del Fe."
Twice presidential candidate Henrique Capriles went the same route: "Today #Jun 17 religious demonstrations across the country! Again bringing reason and truth to the struggle!"
Meanwhile, Lilian Tintori, wife of imprisoned opposition leader Leopoldo Lopez, invited people to the rally in Caracas and said she was accompanying the family of Neomar Lander, a 17-year-old youth who was killed recently during a demonstration.
The marches took place in Caracas and all around the country, including the western cities of Maracaibo, Barquisimeto, the central city of Valencia, Maturin in the east and on the Caribbean island of Margarita.
A wave of protests for and against the government has rolled through Venezuela over the past 50 days, some of which have turned violent with 74 people dead and more than 1,000 injured, according to the Attorney General's Office.