Washington DC, Jun 19 (EFE).- The president of the United States on Monday criticized federal government technology as "painfully outdated" during a meeting with the heads of major tech companies including Apple, Microsoft and Amazon.
"Today, many of our agencies rely on painfully outdated technology, and yet, we have the greatest people in technology that the world has ever seen right here with us," Donald Trump said at the start of the meeting held at the White House on Monday afternoon.
Accompanied by his daughter Ivanka and his son-in-law Jared Kushner, both of whom are presidential advisers, Trump stressed that the "government needs to catch up with the technology revolution".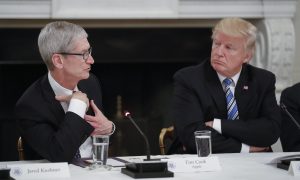 "Our goal is to lead a sweeping transformation of the federal government's technology that will deliver dramatically better services for citizens," he added.
Apple CEO Tim Cook, Amazon's Jeff Bezos, Microsoft's Satya Nadella, Oracle's Safra Catz and Eric Schmidt, CEO of Google parent company Alphabet, were among the attendees at the meeting.
The tech meeting is the second between Trump and representatives of Silicon Valley, California, who have been openly skeptical of the president's policies, especially regarding climate change and immigration.
Cook said vocational training programs and immigrants were key to revitalizing the economy, adding that schools should also include coding as a compulsory subject.
Bezos said it was "impossible to overstate" the importance of artificial intelligence and that better vocational training must be developed.
During his election campaign, Trump had little support from Silicon Valley, with most leading tech company executives distancing themselves from the Republican candidate.
Several tech firm executives disagreed with the president's decision to withdraw the US from the Paris Agreement on climate change, including Tesla CEO Elon Musk who resigned from White House advisory councils.