Lima, Jun 21 (EFE).- Peruvian Economy Minister Alfredo Thorne resigned Wednesday after receiving a no-confidence vote in a plenary session of Congress.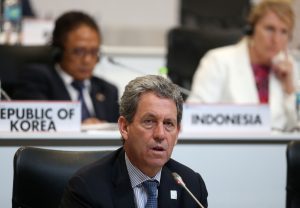 "As I promised, today I signed my resignation letter as minister of economy and finance. I'm grateful for the support I received from everyone during these months (when I have served)," wrote Thorn on Twitter.
Thorne was questioned in the Peruvian Congress about holding a conversation with Comptroller Edgar Alarcon in which the minister allegedly pressured him to give a favorable opinion about the addendum to the contract for building the new airport in Cuzco, a project that was ultimately cancelled.
The audiotape of the conversation was published in the local press and Alarcon, who has also been accused of corruption, said that Thorney had tried to subvert his autonomy.
The outgoing minister lost the confidence vote with 88 lawmakers voting no versus 11 voting yes, with two abstentions.
Only the governing Peruvians for Change lawmakers voted in favor of Thorne, while all other political forces voted against him.
This is the fourth minister the government of Pedro Pablo Kuczynski has lost in less than a year.