Washington, Jun 23 (EFE).- US President Donald Trump signed into law Friday a reform of the Veterans Administration (VA) that will make it easier to dismiss any employees who put former combatants' lives in danger, and will also protect whistleblowers who report bad practices.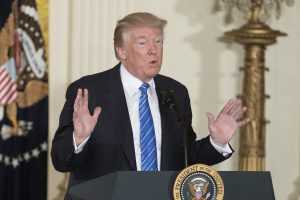 Reforming the VA was one of Trump's campaign promises after the 2014 scandal, during the presidency of Barack Obama, involving a plague of mistakes and delays in its network of hospitals.

"Today, we are taking a very historic action to transform the VA, and "this is only the beginning," Trump said during an event at the White House before signing the reform measure into law.

"Our veterans have fulfilled their duty to this nation – and now we must fulfill our duty to them," the president said.

In recalling the VA scandal of 2014, Trump said that what happened then was "a national disgrace," since many veterans were "put on secret waitlists, given the wrong medication, given the bad treatments."

A hospital in Phoenix, Arizona, was at the center of the scandal, and there the long, slow waiting lists and the hiding of delays in attention to patients could have caused or contributed to the deaths of 40 former combatants.

It was soon discovered that the problems detected in that medical facility were repeated all over the country, with an average waiting time of 114 days in veterans' hospitals.

The Obama government took measures to improve medical attention for veterans and restructure the VA, including dismissals of personnel.

Nonetheless, Trump said Friday that some of those implicated in the scandal are still VA employees due to "outdated laws."

With this new law passed with a bipartisan consensus by Congress and enacted Friday, US Secretary of Veterans Affairs David Skulkin will have the authority "to remove federal employees who fail and endanger our veterans – and to do so quickly and effectively," Trump said.

The president also said that the law will protect "whistleblowers who do the right thing" by exposing incorrect practices within the VA, and also gives Skulkin the power to name new medical directors at VA hospitals.

"And this is only the beginning. We will not rest until the job is 100 percent complete for our great veterans," Trump said.