Washington DC, Jun 26 (EFE).- The President of the United States and the Indian Prime Minister on Monday agreed to work together during their first face to face meeting, highlighting the areas of cooperation and avoiding, at least in public, their differences regarding immigration and climate change.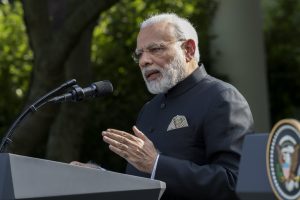 Trade and defense cooperation, economic relations and the fight against terrorism were the main issues at the first bilateral meeting between Donald Trump and Narendra Modi, two nationalist leaders who find common ground in their political platforms and style of government.
"I'm proud to announce to the media, to the American people, and to the Indian people, that Prime Minister Modi and I are world leaders in social media. We're believers (in) giving the citizens of our country the opportunity to hear directly from their elected officials and for us to hear directly from them," Trump said after the meeting.
Trump and Modi, who have 32.8 and 31 million followers on their active Twitter accounts respectively, both opted for friendly gestures and kind words at their first meeting, and made no reference to the tensions provoked by the change in the US immigration policy.
India, which sends thousands of technicians annually to work for telecommunications companies on American soil, is the country most affected by Trump's decision to tighten controls on granting the H-1B visa, which benefits foreign workers specialized in fields related to science, engineering and technology, in order to protect US employees.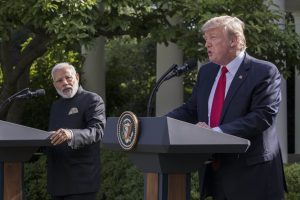 However, the possible changes to the visa are still under discussion in the various agencies of the US government, so Modi avoided any reference to this delicate issue in public.
Also, there were no allusions to climate change at the meeting, held a month after Trump announced his withdrawal from the Paris Agreement against global warming, then saying that it hurts the US for the benefit of India, which "will be allowed to double its coal production" while his country would not.
In addition to their cooperation in "destroying radical Islamic terrorism together," Trump and Modi also emphasized the deepening of bilateral trade and investment ties as a priority, although their nationalist positions could complicate such efforts.
Although there were no commercial agreements signed, the visit ended with the approval of the possible sale of a C-17 transport aircraft manufactured by Boeing to India, for an estimated cost of $366.2 million, which may soon be added to another agreement for the delivery of 22 US drones to New Delhi.
Modi had dinner at the White House with Trump on the third day of his visit to the US, where he also met with other members of the government, business leaders and representatives of the Indian diaspora.