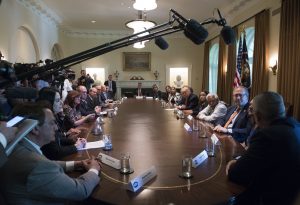 Washington, Jun 28 (EFE).- President Donald Trump met at the White House on Wednesday with victims of crimes committed by undocumented immigrants, and he urged Congress to approve a law increasing penalties for criminals who have been deported but have illegally reentered the country.

In brief remarks delivered before journalists, Trump emphasized that "countless … Americans" and their families, some of whom are "friends" that he met on his election campaign, have been the victims of crimes committed by undocumented immigrants, who – often – have been deported multiple times but have returned to this country.

Many "courageous" families have lost loved ones "because our government refused to enforce our nation's immigration laws," said the president.

"Nobody died in vain," Trump added, noting that on Thursday the House of Representatives is scheduled to hold two "crucial votes" on immigration and national security bills, both sponsored by Republican Congressmen Bob Goodlatte of Virginia, who was present at the White House meeting.

One of the bills has been dubbed Kate's Law, in tribute to a woman who died in 2015 from a gunshot fired by an undocumented immigrant. The bill is designed to increase the penalties for immigrants convicted of certain crimes who, after being deported, have returned to the US illegally.

Kate Steinle, 32, was killed while she was walking along a dock in San Francisco with her father when an illegal immigrant opened fire at her.

The suspect, Juan Francisco Lopez Sanchez, had been deported multiple times and had several convictions for serious crimes on his record when he killed Steinle.

In an appearance at the White House, the interim director of Immigration and Customs Enforcement, Thomas Homan, said on Wednesday that the recidivism rate for undocumented immigrants who have committed crimes fluctuates between 45 percent and 70 percent, depending on the type of crime.

According to ICE data, of the almost 66,000 people detained since January for being in the country illegally, a total of 48,000 are criminals.

However, Homan admitted on Wednesday that immigrants do not commit more crimes than people born in the US.

The House is also scheduled to vote before its July 4 recess on a bill to deny federal funds to so-called "sanctuary cities" – which protect undocumented immigrants – if they do not cooperate with ICE agents.

Trump also said that the MS-13 gang "is a prime target. They are bad people. And we've gotten many of them out already." He added that the administration, by detaining and deporting MS-13 members, is "liberating towns" from the influence of the gang "and we're doing it fast."