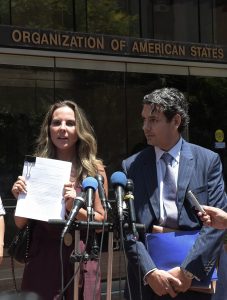 Washington, Jun 29 (EFE).- A prominent actress said in a complaint filed here Thursday with the Inter-American Commission on Human Rights that the Mexican government has violated her rights in its probe of her ties to Joaquin "El Chapo" (Shorty) Guzman, a notorious drug lord currently in pre-trial detention in the United States.
In the complaint before the Washington-based rights body, the Mexican-born Kate del Castillo accused President Enrique Peña Nieto's administration of leaking erroneous information about her contacts with Guzman while he was a fugitive from justice.
"We've come here to file a complaint, a very lengthy one, because they've trampled my human rights and nothing has been done about it in Mexico," said the actress, who has lived in the United States for several years and is a naturalized US citizen.
"There's no question that there's been a lynching of me personally. I don't know who specifically, but by the government in general. That's for sure."
Del Castillo, best known for her role as a powerful, tequila-drinking drug trafficker in the 2011 telenovela "La Reina del Sur" (The Queen of the South), said those alleged leaks had made it difficult for her to work as she would like and had tarnished her reputation.
News about the actress' ties to Guzman came to light on Jan. 9, 2016, when Rolling Stone magazine published an article that American actor-turned-gonzo journalist Sean Penn wrote about his secret visit with Guzman in October 2015 at his hideout in northwestern Mexico.
Penn said Del Castillo, whom Guzman had contacted via his lawyers about a possible film about his rags-to-riches story, had arranged the visit and accompanied him to the hideout.
Since then, the Mexican press has published a series of text messages among Del Castillo, Guzman and one of the drug lord's attorneys, Andres Granados, that Mexican intelligence services intercepted.
According to the Mexican government, those contacts helped lead to the recapture of Guzman on Jan. 8, 2016, a day before the Rolling Stone article was published and six months after the drug lord had broken out of a maximum-security prison in central Mexico through a 1.5-kilometer (1-mile) tunnel dug to his cell.
Mexico's Attorney General's Office said upon issuing an order last year to locate and question Del Castillo that the actress may have received money from Guzman for a tequila company she represents or for a film about the life of the Sinaloa cartel kingpin.
Guzman was extradited to the US in January and faces a range of drug trafficking-related charges, including criminal conspiracy, racketeering and money laundering.