By Bob Schulman
Take notes, adventurers. Here are four way-off-the-beaten-track places around the world just waiting for you to explore and soak up sights straight out of the most eye-catching travel brochures.
Let's start with a trip to a plush fishing camp you wouldn't expect to find in the Russian wilderness way up above the Arctic Circle. There, you can hook huge Atlantic salmon from a jet boat on the fish-packed Ponoi River. After that, the boat heads back to your private cabin in the Ryabaga Camp, where guests enjoy gourmet dining with fine wine. Getting there: Take a commercial flight to Helsinki, Finland, then a charter hop to Murmansk, Russia, then a two-hour helicopter flight to the camp.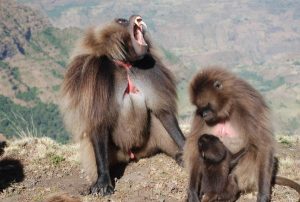 The seven-night trip is priced at $7,490 to $15,490 per person (depending on your travel dates) plus $1,250 for the round-trip charter flights. For more info check out the website of Frontiers International Travels at www.frontierstravel.com/ryabaga-camp-the-ponoi-river
If fishing doesn't turn you on, how about hiking and camping in northern Ethiopia's Simien Mountains? While you're moseying around the range's 12,000-foot-high peaks chances are you'll run into animals like gelada baboons, Ethiopian wolves and now and then a walia ibex. Hikes start and end at the Simien Mountain Lodge, set on the edge of an escarpment 10,700 feet above sea level.
Getting there: First fly commercially to Ethiopia's capital at Addis Ababa, then fly on to Gondar. The seven-day Ethiopian tours (including four days of hiking and camping) begin this Oct. 6, Nov. 3 and Dec. 1. Prices start at $2,760 per person plus $500 for the internal air hops to Gondar and back. More info: Adventure Life,
www.adventure-life.com/africa/ethiopia/tours/11467/simien-mountains-trek.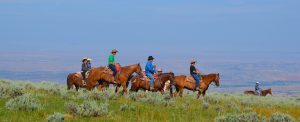 Git along, little doggies… Another popular tour samples America's wild west, complete with horseback riding, taking part in cattle drives and other cowboyish activities. All this and a lot more is waiting for you at Wyoming's Red Reflet Ranch, a combined working cattle ranch and luxury resort near the dot-on-the-map of Ten Sleep in the Big Horn Mountains. Spread over 27,000 acres, the resort features large, private chalets equipped with Wi-Fi, satellite television, a hot tub and steam showers.
Getting there: Pick-up and return to the airport at the small town of Worland, Wyo., are complimentary. Charges apply to ground transport services to and from the ranch by way of larger airports in Wyoming and Montana. Summer rates (through Sept. 10) range from $2,163 per person for a three-night stay to $4,900 per person for seven nights. More info (including specials and fall and winter rates): https://red-reflet-ranch.net.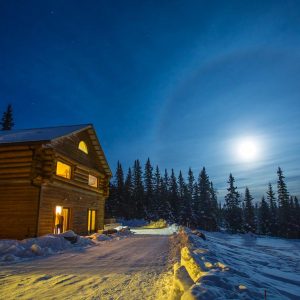 Finally, you can zip up to Fairbanks, Alaska, for some dogsledding through snowy forests, hiking alongside a family of reindeer and topping off the day by soaking in geothermal hot springs. At night you can check out the jaw-dropping Northern Lights (aka the Aurora Borealis) accompanied by a professional photographer who'll help you get the perfect shot of that amazing sight.
This year's departures for the six-night Northern Lights tour are set for Sept. 23, Oct. 21, Nov. 10, Dec. 2 and Dec. 28. The price is $2,345 per person. More info: See the website of Gondwana Ecotours:
http://gondwanaecotours.com/tour/northern-lights-tours-alaska.
Pricing notes: The per-person tab for these four and other adventure tours is typically based on double occupancy and doesn't include your flights to and from the destination's local airport (such as your jet hops from the U.S. to Helsinki and back).