October 28,1992
By Yolanda Reynolds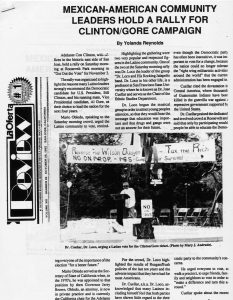 Adelante Con Clinton, with offices in the historic east side of San Jose, held, a rally on Saturday morning at Roosevelt Park morning to "Get Out the Vote" for November 3.
The tally was organized to highlight the reasons many Latino leaders strongly recommend the Democratic candidate for U.S. President, Bill Clinton, and his running mate, Vice Presidential candidate, Al Gore, as their choice to lead the nation for the next four years.
Mario Obledo, speaking to the Saturday morning crowd, urged the Latino community to vote. Reminding everyone of the importance of the election "for a better future."
Mario Obledo served as the Secretary of State of California when, in the 1970's, he was appointed to that position by then Governor Jerry Brown. Obledo, an attorney, is now in private practice and is currently the California chair for the Adelante Con Clinton campaign.
Highlighting the gathering were two very popular and respected figures in the Latino community. One of the two at the Saturday morning rally was Dr. Loco the leader of the group "Dr. Loco and His Rocking Jalapeño band." Dr. Loco in his other life, is a professor at San Francisco State University where he is known as Dr. Jose Cuellar and serves as the chair of the Ethnic Studies Department.
Dr. Loco began the musical group in order to attract young peoples attention, so that they would hear the message that education was important and that drugs and gangs were not an answer for their future.
For the crowd, Dr. Loco highlighted the results of Reagan/Bush policies of the last ten years and the adverse impact that they have had for most Americans.
Dr. Cuellar, a.k.a. Dr. Loco, acknowledged that many Latinos including himself feel that both parties have shown little regard to their interests and concerns. He said that, even though the Democratic party has often been insensitive, it was important to vote for a change, because the nation could no longer tolerate the "right wing militaristic activities around the world" that the current administration has been engaged in.
Cuellar cited the devastation in Central America, where thousands of Guatemalan Indians have been killed in the guerrilla war against a repressive government supported by the United States.
Dr. Cuellar praised the dedicated and involved crowd at Roosevelt and said that only by participating would people be able to educate the Democratic party to the community's concerns.
He urged everyone to vote, to walk a prescient, to urge friends, family and neighbors to vote in order to "make a difference and turn this around."
Cuellar spoke about the recent trip he made. He was in the Middle East where, he said the true devastation caused in that part of the world is not yet realized. He gave as an example the belief held by some colleagues of his, who are biblical scholars say that the "smart missiles U.S. hits in a heavily targeted area in Iraq may have destroyed forever a site they believe was the "Garden of Eden" described in the Bible.
Cuellar noted that the unfair taxing system implemented by the Reagan Bush Team over the last decade has resulted in the creation in the United States of a very wealthy class and a dwindling middle class – threatening the foundations needed for a viable democracy.
Also, devastating has been the cline of the educational system in the United States. Cuellar pointed out that quality education has been a longtime interest of Hillary Clinton, the wife of Bill Clinton. Cuellar said that he could not believe that education would be ignored in the Clinton/Gore administration as it has for the last 12 years.
This concern for education in the United States is the very reason that Little Joe, a popular Tex Mex singer, has taken to the political campaign trail in support of a Clinton/Gore win in November.
Little Joe, the lead and star of the Grammy Award winning group, "Liitle Joe & La Familia," feels very strongly about education. His one regret of his youth was that he was unable to attend school beyond the eight grade.
Little Joe (Joe Hernandez) comes from a large family. He has 13 siblings. Music was very important in his family. His father was also a musician and is a recorded artist, as are nine others of the Hernandez children. His father was known as "La Cotorra" (a green parrot).
The Hernandez family, having now lived for a generation in Texas, were originally from San Luis Potosi. Mexico. Joe's maternal grandfather, Jose Maria De Leon, was a General in the Mexican Revolution.
Life has not always been easy and recently in 1992, when Joe and his group were awarded the Grammy he is reported to have said that he was not nervous winning because he had "prepared himself to handle a lot of things… good and bad."
The Grammy award, for the hit song "Diez y Seis de Septiembre" (16 of September) was clearly good for causes of Little Jose and La Familia.
Joe Hernandez has never left his community behind as he has achieved increasing success in his musical career.
Joe is a strong supporter of education. His resume is filled with numerous appearances and radio/television/stage promotions on behalf of the young, and emphasizing the importance of education to the entire community.
Little Joe is so committed to encouraging the young to stay in school, that, at his own expense, he initiated and printed "stay in school" bumper stickers.
Little Joe is the official spokesman for, "Communities in School Program," a national school drop-out prevention program.
Little Joe frequently sought out to promote commercial goods. One product that he will not promote is alcohol. He used to work with a company that sold whisky, but after losing first a brother and then his father in separate auto accidents when hit by drunk drivers, Little Joe will not promote the purchase of alcoholic beverages and now actively works to encourage everyone, particularly the young, to say "no" to drugs, including alcohol.
Little Joe's family appears to be very close. His parents, particularly his father, encouraged each of the children to learn music. He felt that music fulfills many needs in times of sorrow, as well in times of happiness, throughout life. His children accepted that admonition; all of them either sing or play music instrument or bot. As adults, music has been a source of family personal success, with 9 of the 13 becoming recording stars under various labels, ranging from Capitol records to Buena Suerte and others.
The estate of Texas is very proud of Little Joe and La Familia were star performers at the inaugural ball for Ann Richards, the recently elected Democratic Governor of Texas.
Darlene Marque, the coordinator of the local Adelante con Clinton campaign, said that it was a great honor of particular significance that S. Obledo, Dr. Loco and Little Joe, Latinos who have for year been community advocates, came to San Jose to urge Latinos to vote for the Clinton/Gore ticket on Nov. 3.
The Adelante Con Clinton group in San Jose, Marquez says is an independent community based group that is concerned for the fundamental interests of the Latino community.
Other rally speakers were Kathy Chavez Napoli representing the group, Citizens for Better Plan, who advocate a "no vote in Measure A," a measure on the ballot asking the voters to approve a $3.5 billion tax for more rail lines in San Jose. Napoli and the Citizens group say that as currently planned the Measure A program will result in a huge waste of tax payers money without really solving the traffic problems in Santa Clara Valley.
Another speaker was Yolanda Ambriz who urged a "no vote on Proposition 165" which she says will give California Governor Pete Wilson complete control of the budget. This measure is seen as a power grab by the current governor while at the same time requiring a significant reduction in welfare support to the needy.
Proposition 165 is opposed by a range of groups from people advocates to advocates for good government. The Proposition concentrates power in the hands of one individual and the hands of highly placed special interests, as well as, attacking the most-needy segment of the community.
According to Marquez the Adelante Con Clinton precinct walking was completed by Sunday noon and will now be concentrating on phone banking as well coordinating rides for those who need such help on election day.
For more information regarding Adelante Con Clinton campaign contact the headquarters at 287-9829 or for a ride to the polling booth November 3, telephone 254-3878. © La Oferta Newspaper.