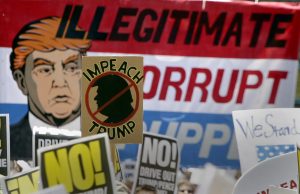 Los Angeles, Jul 2 (EFE).- Thousands of people took to the streets in marches and demonstrations convened in 46 US cities to ask Congress to launch impeachment proceedings against President Donald Trump.

The marches, called by human rights activists, also served as an opportunity for people to protest against Trump's immigration policies, his business ties abroad, possible Russian interference in the 2016 presidential election and the president's alleged obstruction of the investigation into the latter situation, among other things.

Suspicions that he obstructed justice and has violated the foreign emoluments clause would both be both constitutionally valid reasons for Congress to investigate and impeach the president, Tudor Popescu, with the Indivisible CA D-39 group, the main organizer of the march in Los Angeles, told EFE.

The Los Angeles demonstration was the largest of those called around the US with about 10,000 participants, according to organizers.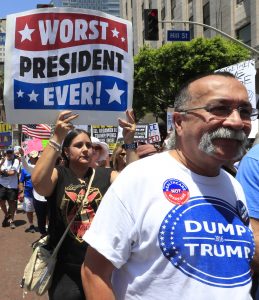 However, the great majority of the other 46 marches had only scanty turnout.

One of those was in New York, where only a few dozen people showed up to protest in front of the Trump International Hotel, where they were joined by a group showing support for the president, although no incidents or altercations developed.

The anti-Trump demonstrators in New York chanted slogans alluding to the president's "small hands" and how such hands could not build his proposed and much touted wall along the border with Mexico, and a man dressed as Russian President Vladimir Putin sat on the shoulders of someone dressed as Trump carrying a sign claiming that the US leader has no links to Russia, with the added comment "Believe me."

In Palm Beach, Florida, marchers ended up in front of Trump's Mar-a-Lago exclusive club, where the president has spent a number of weekends since being inaugurated.

Among the dozens of other cities holding marches were Atlanta, Austin, Chicago and New Orleans, with organizers saying that 100 and 300 people, respectively, showed up for the two latter protests.