New York, Jul 4 (EFE).- The fireworks on Tuesday turned the night into festival of colors in New York, concluding the Independence Day celebrations marked by the barbecues in the sun and social gatherings, from the rooftops to the streets.
The 25-minute colorful fireworks, organized by the department store Macy's, as it has for the past 41 years, marked the end of the long summer weekend on Tuesday, July 4, the anniversary of the founding of the United States 241 years ago.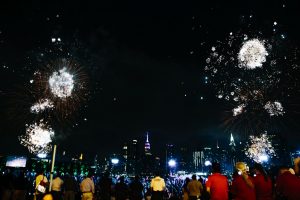 Throngs of people dressed in clothing of the American flag colors went through the streets of New York in the evening in search of a location from where they could admire the country's biggest pyrotechnic show, for which 60,000 firework rockets were used.
"Some of the Macy's show rockets, varying from five to centimeters in diameter, and weighing about 22 kilograms (48.5 pounds) rise about 300 meters," Gary Souza from Pyro Spectaculars told ABC 7.
Fireworks, launched from five boats on the East River at 9.30 pm, displayed images such as smiley faces, bicolor spheres and huge golden palm trees to the cheerful and applauding crowd.
Illuminating the New York landscape filled with skyscrapers and with the iconic Empire State building wrapped in patriotic colors, the sound of the fireworks being shot into the sky went on without pause silencing the city that never sleeps.
About three million people attended the New York fireworks show amid tight security, although police chief James O'Neill said there were no specific or credible threats against the July 4 celebrations or the city.
Mayor Bill de Blasio announced earlier that there would be a high presence of security forces, reinforced with specialized anti-terror units, radiation detection tools and police dogs.