Cartagena, Colombia, Jul 5 (EFE).- President Juan Manuel Santos on Wednesday announced that a Spanish galleon that sank off the Colombian coast in the early 1700s will be recovered, in conjunction with a private firm.
"Today, I can announced to Colombia and the world that, after more than two years of structuring, we've gotten a proposal that fulfills the highest scientific, technological and financial standards required for learning about our cultural heritage," said Santos at a ceremony in Cartagena, referring to the galleon San Jose.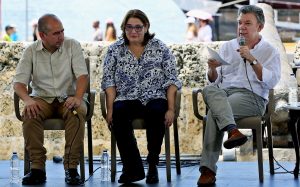 The president said that the accord is "with an investor who agrees to our conditions, and who guarantees us a process completely respectful of the galleon's historical and heritage value."
The San Jose was found by the Colombian government on the bottom of the ocean off the coast of Cartagena on Nov. 27, 2015.
Santos said that the investor, whose name and nationality he did not reveal, is ready to hire "a true 'dream team,' the world's best selection of submarine archaeologists, oceanographers, the most renowned company in marine prospecting, naval architects and a great team of robotics engineers."
The public-private alliance proposal has already been finalized and on July 14 a public hearing will be held in Cartagena for interested parties, Santos said, albeit refusing to provide further details about the effort.
The president said that much of the information about the alliance and the coordinates of the wreck "cannot be divulged," but he assured his listeners that the project would adhere to the highest standards.
The San Jose, laden with gold, silver and precious stones mined in the viceroyalties of New Granada and Peru, sank on June 8, 1708, after a battle with English corsairs in the Caribbean.
The ship was built in 1696 by Pedro de Arostegui in the Mapil shipyards near San Sebastian in northern Spain.
"The scientific challenge we've taken on is one of the most ambitious in history," said the president about the plan to recover the galleon, adding that he was not exaggerating when he said that "nobody in the world has proposed a scientific operation of this magnitude, such a complex archaeological dig and at such a depth."
He emphasized that in recovering the galleon one of the priorities is to protect Colombia's cultural heritage in all areas and all parts of the country.
After the galleon was located, Spain claimed the rights to the ship and its cargo, and Madrid and Bogota have maintained top-level contacts since then and have expressed their desire to reach a "friendly" agreement on the matter.
The rights to the wreck have also been asserted by the US treasure hunting firm Sea Search Armada, which claims to have located the San Jose more than 30 years ago.