Mexico City, Jul 7 (EFE).- Homeland Security Secretary John Kelly spoke Friday about the efforts shared with Mexico to halt illegal migration and drug trafficking, after acknowledging that his country's insatiable appetite for those substances causes problems on both sides of the border.
We are "working together to defeat the scourge of illegal drugs, with special emphasis on the heroin, cocaine and fentanyl that is flooding the hemisphere and resulting in deaths in both of our countries," Kelly said in a statement to the media together with Mexican Interior Minister Miguel Angel Osorio.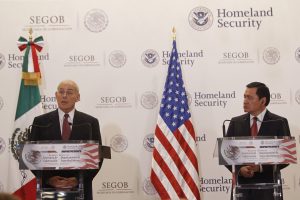 "I acknowledged to my counterpart that America's insatiable appetite for drugs is the cause of much of the turmoil on both sides of the border," said the US official who arrived in Mexico last Wednesday
Kelly was referring to the bilateral cooperation at work in the administration of justice, but noted the need to create "stronger, durable bonds" between the two countries.
Prosperity and security are intertwined, and the criminal networks will only keep increasing their influence if the two countries don't work together, he said.
As for migration, the homeland security secretary said that both countries have collaborated to provide a legal crossing of their mutual border for persons and goods.
One of the chief promises of the electoral campaign of US President Donald Trump, who on Friday in Hamburg had his first meeting with his Mexican counterpart Enrique Peña Nieto, was the construction of a wall on the border between the two countries to stop illegal immigration.
That issue sparked the most tension between the two countries, above all because Trump insisted again and again that he would make Mexico pay for the wall's construction, something the Peña Nieto government refused to consider.
Osorio noted his agreement with Kelly on the problems of migration and the border, organized crime and drug trafficking, and called for "a strategy that combats production, trafficking, sale and consumption."