By Lina Broydo
The Fort Ross Festival
July 29, 10 a.m. to 6:30 p.m.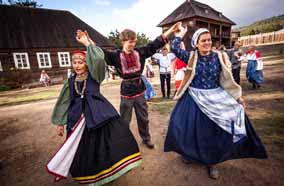 The Fort Ross Festival celebrates the diverse immigrant cultures that created California's first industrial centers where the state's first ships, windmills, bricks and barrels were built. The all-day event will feature historical vignettes, horse and buggy rides, and hands-on crafts replicating the trade skills of those first pioneers. Listen to live music from various cultures, taste from the international food bazaar and grab refreshments at the Fort Ross Garden. San Francisco Balalaika Ensemble keeps the tradition alive by performing Russian, Ukrainian, Russian Roma (Gypsy), and Crimean Tatar music in a traditional folk instrument orchestra of balalaikas, domras, bayan (Russian button accordion), zhaleika/brelka (Russian reed pipes) and sopilka (Ukrainian flute).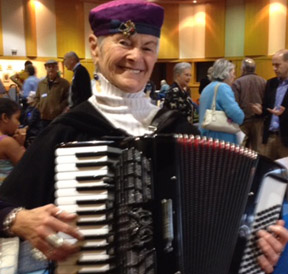 Laurie Lippin is an accomplished Sonoma County accordionist who has been playing music since childhood. She will be strolling the fort compound playing a wide variety of lively and mournful Eastern European-esque klezmer. Bells!  Enjoy the joyful sound of ringing bells (zvonnitsa) emanating from on high, with performances by soloist Ty Gale, Bellringer of St. Nicholas Orthodox Church in San Anselmo, California.
Tickets and Information
Price of admission is $20
707-847-3437
Fort Ross State Historic Park
19005 Hwy 1 at Jenner
Photo courtesy of Fort Ross Festival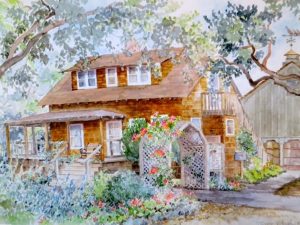 Los Altos History Museum Celebrates 40 years!
July 23, from 5 p.m. to 8 p.m.
The summer garden party is in full bloom as it marks the 40th Anniversary of the establishment and the renovation of 1905 farmhouse as the Gilbert Smith House Museum in 1977.
Community residents are encouraged to join the festivities and cheer and acknowledge the people who helped build upon their legacy by moving the cultural history of the Los Altos area and its integration into the brilliance of Silicon Valley's innovations to the next level for future generations to enjoy! The special dinner event will honor community leaders who have helped the museum thrive over the past 40 years including past Museum presidents, major donors, past Los Altos and Los Altos Hills mayors and long-time volunteers.
"It is a time to celebrate, but also reflect" observes museum's Executive Director Dr. Elisabeth I. Ward. Hope to see you there and taste some of the locally grown apricots as the museum is located among the apricot orchards. A Photo Booth to make your own history as well as a Photo Wall of past events, activities and volunteers will be part of the festivities.
Tickets and Information
Price: $50 per person
650-948-9427 ext.14
51 South San Antonio Road in Los Altos
Photo courtesy of Los Altos History Museum
Explore Napa Valley by Train
Here is my favorite and relaxing way to sip some selected wines, dine and view the stunning panoramic views of Northern California's wine region. No need to fly this summer to Tuscany, as we have it all here in our backyard. The Napa Valley museum quality antique Wine Train that runs on 25-­miles of track in the heart of the Napa Valley,  is one of the most distinctive Napa restaurants, offering an authentic, memorable experience that echoes the glory days of train travel aboard exquisitely restored Pullman coaches vintage rail cars as they ride past vineyards on three-hour lunch and dinner. The train itself has two engines, three kitchens on board and a collection of Honduran mahogany paneling, brass accents, etched glass partitions and plush armchairs that evoke the spirit of luxury rail travel in the early 1900s. Take a trip into the luxurious American past and experience an unparalleled memory-­making journey. While visiting Napa check out on the Napa Valley Festival of music, dance and theater at www.festivalnapavalley.org. Cheers!
Tickets and Information
Reservations are recommended
800-427-4124
1275 McKinstry Street in Napa
Photo courtesy of Napa Valley Wine Train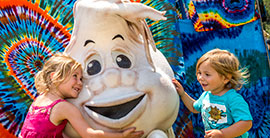 2017 Gilroy Garlic Festival
July 28 – 30, 10 a.m. to 7 p.m.
From garlic cheesecake to Shanghai sliders original recipes will have eight chefs from across the United States compete in the 2017 Great Garlic Cook-Off, one of the nation's most prestigious cooking contests as the famous Gilroy Garlic Festival will fill the area with its delicious flavors. Several of this year's finalists, including two from California, will explore garlic's sweet and savory possibilities in dessert-inspired dishes. Betty Hass of Cupertino will make a Hazelnut-Crusted Garlic Cheesecake with Orange-Hazelnut Syrup, while Priscilla Yee of Concord will cook up some Sweet-Savory Garlic Cornbread Berry Shortcakes with Garlic Thyme Brittle. Don't miss the glorious moment as the winning chef will receive $5,000 and most importantly the coveted garlic crown. Spend an aromatic weekend with your family and partake in many activities offered throughout the festival. Don't forget to taste the garlic ice cream!
Tickets and Information
Prices range from $10 to $20
Free admission for children ages 9 and under
$10 parking fee per vehicle includes shuttle bus to and from the festival's entrance
Christmas Hill Park in Gilroy
Photo courtesy of the 2017 Gilroy Garlic Festival