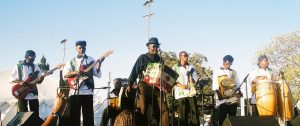 By Bob Schulman
Not too long ago there were "boom and chime" bands all over Belize, a speck on the Central American map just below Mexico. If you were lucky enough to get down there before 2010 you likely heard the country's top boom band, led by the iconic accordionist/singer Wilfred Peters, batting out peppy, booty-swinging tunes at parades, festivals, parties and miscellaneous jump-ups.
You'll still hear budding boom and chimers here and there, but seven years ago the last of the genre's old-time heavy hitters bit the dust when Peters slipped away at 79 to that big dancehall in the sky.
Peters' chief sideman was a drummer who beat one side of his drum with a mallet to make a booming sound. The other side had a metal rim, which the drummer hit with a hollow metal stick to make a chiming sound. Hence, "boom and chime."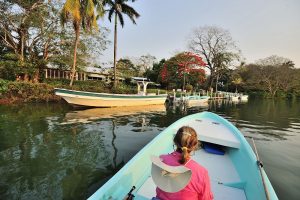 Among other instruments in the band – think Cajun zydeco with a tropical flavor – were guitars, a banjo, bongo and conga drums, maracas and a donkey's jawbone scratched with a stick.
Their songs featured the country's homegrown and still popular mish-mash of African, Latin and Caribbean music called "brukdown" (slang for "broken down calypso"). It goes
back centuries to the days when Belize – formerly British Honduras – was home to escaped slaves, out-of-work pirates (during hard times on the Spanish Main), Black Caribe Indians kicked off the Grenadines, Maya refugees from the Caste War in Mexico, Garifuna farmers evicted from an offshore island, people whose faces were on "Wanted" posters in a half-dozen languages and others who came to timber camps in the country's steaming hot jungles to chop down forests of precious mahogany trees.
Fast-forward to the late 1960s when three musically talented Belizean youngsters – accordionist Peters, a drummer and a guy playing a beat-up guitar – got together to form a creole band at first called "The Mahogany Chips." According to Peters' biography, they raked in the equivalent of $5 a gig plus all the rum-and-cokes they could down.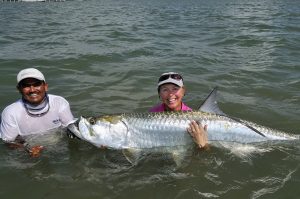 Their creole tunes eventually morphed into brukdown, and as more band members came on board they changed the group's name to "Boom and Chime." They became so popular over the years in Belize and on worldwide tours that Queen Elizabeth honored Peters with an MBE (Most Excellent Order of the British Empire).
A sort of Belizean Bob Marley, Peters – known as Mr. Peters – may be best remembered for his cheery wake-up song "Good Mawnin' Belize" www.youtube.com/watch?v=S0UwWgHRo6Q, once heard at the crack of dawn on radios in homes across the country.
Among his many other chart-toppers, "Run Fu Yu Life" www.youtube.com/watch?v=PYr3gkGXzA8 – about Mr. Peters' narrow escape from a lady's husband – blew rooms away on the band's world tours from Belfast to Barcelona.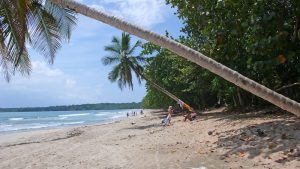 A note to tourists: If you happen to be in Belize on Nov. 19, don't be surprised to see thousands of local folks parading, partying, dancing and otherwise celebrating their Afro-Caribbean/French/British roots.
That day is their annual "Garifuna Settlement Day," marking the settlement of villages long ago by farmers booted out of their homes on the offshore island of Roatan.