Cartagena, Colombia, Jul 14 (EFE).- The director of the Colombian Anthropology and History Institute (ICAHN) announced Friday from Cartagena that the Colombian government hopes the subaquatic work for recovering the remains of the early 18th century San Jose galleon from the bottom of the sea will get underway by the end of this year.

ICAHN Director Ernesto Montenegro said that according to the investor behind the ambitious project, whose identity is yet to be made public by the Colombian government and whose plan is currently in the possession of the Culture Ministry, the complete recovery of the San Jose galleon will take "around six months."

"But that will depend on the technical resources made available for the recovery process," he said.

He also said that three-fourths of the San Jose galleon have been identified, and that "the missing part must either have been destroyed when the ship was sunk or wasted away during its 300 years underwater.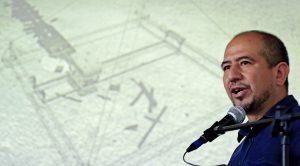 Montenegro dismissed doubts about whether the discovered shipwreck really is that of the San Jose galleon, and said the experts have "full knowledge of the ship's identity."

"The register of cannons including ones from the shipwreck identifies them as specifically assigned to the San Jose galleon, which allows us conclude that this is definitely the San Jose," Montenegro said.

For his part, the head of the judicial advisory office of the Culture Ministry, Juan Manuel Vargas, said that "the National Heritage Council applies five criteria to determine whether a discovery is or is not a part of national heritage, which in turn determines whether it can be monetized or sold."

The criteria are whether it is representative, singular, of scientific or cultural importance, repetitive or conservationist.

"When it is known that something is not heritage is when we define the rules of what is not heritage – which corresponds to the state and the investor behind the project," Vargas said.

"In a hypothetical example, if we find a million coins of the same denomination, we would apply the criterion of repetition, and what the Supreme Court has said is that the National Heritage Council would then decide what part must be preserved and what part can be put back on the market," Vargas said.

Scientists estimate that in identifying the materials, they could find some 10 million ship's parts and objects, among which will be those made of metal, wood, ceramic or glass.