Buenos Aires, Jul 18 (EFE).- Representatives of the Jewish community and of Argentine civil society, political authorities and family members demanded Tuesday the end of impunity for those who attacked the AMIA Argentine Jewish Community Center in Buenos Aires 23 years ago and killed 85 people.
Some 2,500 people gathered on this cold day of the Southern Hemisphere winter in front of the AMIA in Buenos Aires under the slogan: "23 years of impunity in the history of everyone."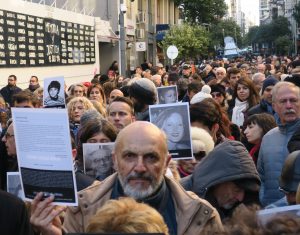 The ceremony began, as it does every year, with the sound of a siren at 9:53, the same time that in this same place a bomb exploded on July 18, 1994.
"Twenty-three years later, impunity is still laughing in our faces. Many governments have come and gone, all full of promises they never kept," said Jennifer Dubin, daughter of Norberto, one of the 85 fatalities, in a speech she gave at the opening of the ceremony.
Dubin noted that the same government officials, who every year promise families and friends of the victims that they will find and punish the terrorists, did not suffer 23 years ago what it meant to search for "brutally murdered" loved ones amid the rubble.
"The attack on the AMIA just doesn't matter to anyone," she said.
After observing a minute of silence, the names of the slain were read aloud, stories were told about every one of them and a floral tribute was placed in commemoration of each of the victims.
The speakers did not forget to mention Alberto Nisman, who for 10 years was the special prosecutor on the case until his death on Jan. 18, 2015, when he was found shot in the head after accusing then-President Cristina Fernandez for the suspected cover-up of the Iranians implicated in the attack.
AMIA President Agustin Zbar said that while the attack had an anti-Semitic motive, society has finally understood it was really an attack against the whole country.
"It was a blow against democracy and freedom that has cost us so much to recover from," he said, then asked citizens to unite to end this impunity.
The attack on AMIA was the second against the Argentine Jewish community, after 29 people were killed in 1992 when a bomb exploded in front of the Israeli Embassy, also in the Argentine capital.
The planning and execution of both attacks are attributed to the Hezbollah terrorist group.